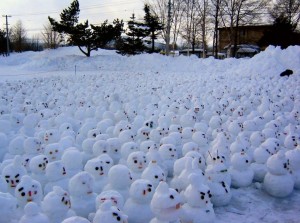 How times change. What would have been a pointed insult  in the not so distant past, is now a reason to cheer. Did your photograph, quote, video or blog post go viral? The social media world will not quarantine or blackball you. Rather, your success will brand you a marketing genius and the world will follow your every step. Pimm Fox will interview you on Taking Stock.
Why do you want to go viral? Because. If you wish to create your masterpiece in obscurity and never feel the rush of adrenaline as you walk into a room and realize that the people are there to see you, then stop reading this post. It is perfectly fine not to care about interacting with others, be they your niche readers, local book clubs, or other literary/social venues. But if you do care, and want to use the power of the Internet to create a viral phenomenon, then read on.
Let's start with the big no-no. A blog post or any other item you share will not go viral if the reader perceives that the creator/owner of the post did it for personal gain. This is a soft-sell opportunity like Pinterest. Writing a whiny sentence and attaching a link to your latest book is not a viral opportunity. Your friends on facebook, Pinterest, and any other social media platform may help you by sharing said item. They love you. Your goal is to get beyond your immediate network and outside your comfort zone to strangers who will share your post. Isn't promoting ourselves always about going outside our comfort zone?
So, what does make a photo, post, or video go viral? While I was doing the research for this blog post I came across a few guidlines that were common to all the articles I read.
According to Seth Godin, who coined the term viral, successful viral content is:
Easy to understand.
Worth sharing and talking about
Simple to spread and share
Rewarding to share.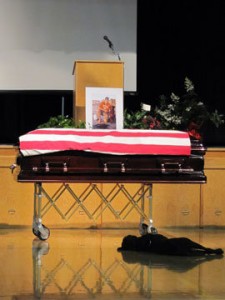 The photo at the left is one of the most shared posts of 2012 on facebook. Why? Because the photo evokes an immediate response that is simple to understand. It is a sentiment that is worth sharing with your friends on facebook. It pulls at the heartstrings. Man's best friend mourns a fallen hero.
Every time I see this photo it makes me stop. There is an immediate emotional response.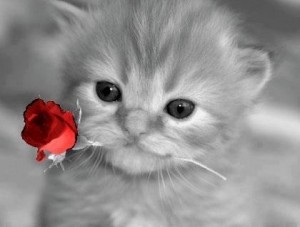 Happy animal photos are also a big draw. Who doesn't want to cuddle the sweet kitty pictured here?
We have become a society of visual junkies. Observe the trailers that preceded the most recent James Bond movie, "Skyfall." There were more explosions in those few minutes than the attempted overthrow of a Middle East dictator. The dialogue spoken by the steroid fed actors is short sound bites, and for this audience quick and dirty works. I am not advocating that this is the correct approach. Many of these films will fail at the box office. Hollywood doesn't know what will grab the movie-going public's attention any more than we can predict exactly what will go viral on the Internet. That is why we are subjected to the same storyline again and again at the cinema.
There is, however, a definite aspect of style involved in going viral. My readers know that I love to write about style. Establishing your own unique style in everything you create will brand you, and crafting a post on facebook is an excellent opportunity to showcase who you are. A dash of style spices up an otherwise vanilla post. It will bring hungry readers to your table. Just be sure it is your own style. Your true style can only come from within you.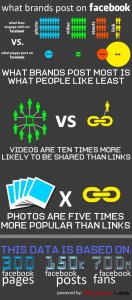 The chart to the right gives some statistical information for those of you who prefer hard data. Notice that direct links are the least successful way to get a post to go viral.
IU contributing author Carol Wyer put up a facebook post yesterday that said, "Whoever said, 'nothing is impossible' obviously never tried to nail Jello to a tree." This quote is humorous and visual. Imprint this on a photo of your favorite dopey politician and you may have a winner.
Have you tracked your own posts to see which elicit the most comments or shares? This is a good place to start. I wish you luck in going viral. Cheers!