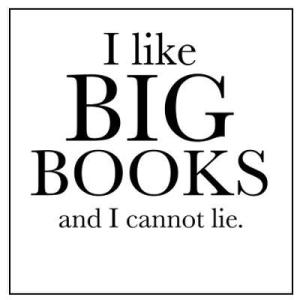 So I am presently watching Peter Jackson's Lord of the Rings trilogy for the umpteenth time because The Hobbit is coming out soon and, well, I am a big ol', oliphaunt-sized Fantasy Nerd. How big, you ask? It should go without saying that I'm watching the extended versions of all three movies with all the deleted scenes and so forth, making each film something like 57 hours long.
And I love it.
It did, however, get me to thinking, and since I have this column to fill on a weekly basis, I thought I'd share some of my thoughts with you. To wit, I love big books. There, I said it, but here's the thing: I think everybody loves big books – they just don't necessarily know it.
People love all sorts of books, and there are all sorts of books out there for people to love, but here is something no one has ever said: "This is my favorite book. The characters are flat and the story is boring, but it's really, really short, and that is what I mostly look for in a book." Nor has anyone ever wished that there was less of their favorite book of all time, whatever that book may be. The popularity of hugely successful series that basically repeat the same story over and over again, as well as whole genres that are defined so rigidly that you can pretty much sketch out the plotline of any given book before starting on page one is, to me, proof that an awful lot of readers like to read what they like to read, if you follow me.  People who may have a kneejerk reaction of "I don't like big books," are – I personally believe – not really commenting on the length of any book. They are making a substantive judgment on what they believe to be within those far apart covers, as opposed to really being bothered that the covers are just far apart.
It's easy to see how such a bias probably developed for many readers. In the pre-digital days, a Big Book was just that: a big, honkin', cumbersome thing you had to drag around with you if you wanted to get in some reading at the laundromat or in church. Also, the first experience a lot of us had with really Big Books were "classics" assigned as reading for a class at some point. Being forced to do something, even reading a book, always sucks a lot of the joy out of it to begin with. Plus, let's face it. A lot of classics are representative of an earlier time when the human attention span wasn't attuned to 90-minute movies, and 22-minute sitcoms (not counting commercials). We do live at a faster pace nowadays, and a lot of people prefer what they read for entertainment fits into that pace. Not the more contemplative and even pastoral pace of an earlier era.
If there was a certain word count where readers just lose interest in a given set of characters or the sort of story they are in, there would be one Harry Potter Book, one Sherlock Holmes story, one book set in Narnia, one set in a Little House on the Prairie, and Sue Grafton would have wrapped everything up in A is For Alibi. Sure, you can say each of the books in all those series brings a fresh new element to the whole…but can you say it with a straight face? Really? Do readers love all those series of books, and dozens or hundreds of others besides, because each volume is like a whole new world? Or is it because each volume is a return to familiar people, places, and things that readers know ahead of time that they like already?
For me, when a book feels like it may be "too long," it's really only because I am not enjoying what is written there. Though given in quantitative terms, I believe "too long" is really a qualitative judgment. If I like a book, it never seems too long, no matter how long it is. And if I don't like it, brevity is not going to make it any more enjoyable to me personally.
So when in the course of authorial events, you are editing your own manuscript and thinking you should really get it down to a length that "people are going to want to read," do think carefully about what that means. In the most general sense, every writer's ideal target audience is "people who will like this book." And are those people necessarily going to like it more, just because there is less of it? Or is the part of your brain telling you to make it shorter really telling you to make what is there better? While it is true there is such a thing as addition by subtraction, it remains less common than subtraction by subtraction. That's why they still call it subtraction.
Later skaters, Frodo and Sam are just getting to Mordor. 😉
———-
In closing, a bit of a real, short review on a real, really long book.
"Proust is just a bit verbose."
In Search of Lost Time by Marcel Proust (4211 pages in 7 volumes)