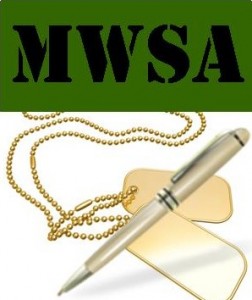 Way back in 2010, I was a newly minted, published author. And like every other new author out there, I was marketing like a mad woman. I posted links to my books everywhere! There was a reply to one of my posts in an Amazon discussion forum; it changed my life. The gentleman who posted was a member of the MWSA: Military Writer's Society of America. He suggested that since I was a veteran, I might like to join. I looked up the organization and was impressed. I joined, and later that same year, my novel was nominated for an award. What a shock!
So what is MWSA all about? I'll defer to their mission statement:
"We are an association of more than a thousand authors, poets, and artists, drawn together by the common bond of military service. Most of our members are active duty military, retirees, or military veterans. A few are lifelong civilians who have chosen to honor our military through their writings or their art. Our only core principle is a love of the men and women who defend this nation, and a deeply personal understanding of their sacrifice and dedication. Our skills are varied. Some of us are world class writers, with many successful books. Others write only for the eyes of their friends and families. But each of us has a tale to tell. Each of us is a part of the fabric of Freedom."
Founded in 2004 by Bill McDonald, a Vietnam veteran, MWSA started out as the American Author's Association. Once it was realized that "military" played a large part with members, the name was changed. Their job isn't just about writing: "Military Writers Society of America helps veterans, their families, and historians record history and the complexities of military life—and encourages writing and other creative endeavors as therapy for the stresses of our special circumstances. We focus on using these works to educate the general public, students, and the military community."
As a veteran, who is married to a veteran that suffers from PTSD, this has become a wonderful outlet to commune with like-minded folks in the same situation as me. Recently, I posted a question on the MWSA Facebook page. I wanted to know what members were getting from their membership. Here are some of the responses:
"MWSA is a great organization of authors, writers, want-to-be writers, and dreamers. All skill levels can be found here plus the encouragement to pursue their dreams of writing and publishing. I am proud to be a member and invite anyone to join those who celebrate the written word." E. Franklin Evans, author of Stand To…A Journey to Manhood.
"As a longtime writer but relatively new member, I really enjoy the interaction with and support I've received from members so far. It's an interesting group and I've found some great new books to read!" Cathryn J. Prince
"MWSA is an excellent organization. The members have provided great support and mentorship. The journey to publishing and launching my first book was aided by MWSA." Lillie Leonardi
"After winning the Silver Medal from MWSA for Children Under 12 genre, When Grandma's False Teeth Fly, my sales increased significantly. My husband and I had a wonderful time at the conference, so much so, he decided to join MWSA." Mary Lee
MWSA isn't just for Americans. There are members from Canada and Australia as well. Each year, a conference is held in which everyone is invited to get together and learn new things, catch up on the latest publishing trends, make new friends, and reunite with old friends. There is a grand awards banquet, auction, and loads of fun. If you are looking for a military-oriented writing organization, MWSA is worth investigating. I'm proud to say I'm a member and support my fellow military authors. In fact, I regularly post IU goodies to the MWSA Facebook page. And I know there are a few vets just like me lurking around IU!
You can check out MWSA here: http://www.mwsadispatches.com/