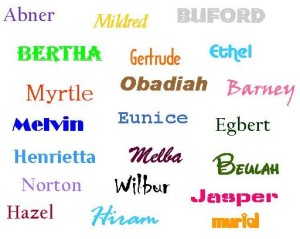 I was talking the other day with E.L. James and Hugh Howey about what a bunch of name-droppers we writers are.
Okay, maybe that part didn't happen, and I don't mean name-dropper in the conventional sense. I mean that as writers, we have actually dropped certain names from literature.
When we choose our characters' names, we use the opportunity to enhance the reader's mental image of the character. Certain names just don't seem to do that as well, so we drop them from the lexicon. They may not be totally gone, but to the extent they are used at all, they are given to minor characters.
This is not particularly new, and I do not even say it is necessarily a bad thing. Consider Gone With the Wind. Substitute the name of the character Scarlett O'Hara with Bertha Titsworthy. Substitute Rhett Butler for Cletus Suggs. Those names may evoke an image in a reader's mind, but our very powerfully-written description aside, it probably won't be an image of Vivien Leigh and Clark Gable.
Any character's name is the shorthand for the description you provide of them. You won't repeat the description each time you mention them, so their names stand in, providing the reader a mental image of your character. Therefore, we look for names that fit the character types.
That ends up shrinking the gene pool quite a bit—more so in some genres than others. That's why It is hard to find a book in mainstream fiction without a character named Jack.
Clearly, fantasy and science fiction writers plow their own ground insofar as character names. Bilbo Baggins is unique, but still conjures up a sense of being markedly average. I think that was sort of the point.
Darth Vader is an effective name for a villain. The reader can tell right away this guy is no florist.
Even though in these genres, the names may be unusual and even unprecedented, they are still evocative of the essence of the character.
None of this means there was never a hot chick named Mildred, or a hunk named Dewey. But, choosing those kinds of names for vixens and iron-jawed heroes might make you work against the readers' mindset. It could make it harder for the reader to become immersed in the story.
As the author, you name the people in your book. Doing so is an opportunity to add a little luster to your story. The reason I point this out is that I have a tendency to use placeholder names for my characters. These names can often be somewhat comical or far-fetched.
One of my current endeavors has a protagonist with a rather ridiculous last name.The book is a collaborative effort with another author, who shall remain nameless (Brooks). We're probably going to want to reconsider the name, or because of the nature of the book, we may decide to leave it as is.
Either way, it will be a collaborative decision (made by Brooks), and one which fully weighs (or completely ignores) the considerations raised here.
How much thought do you put into your characters' names?