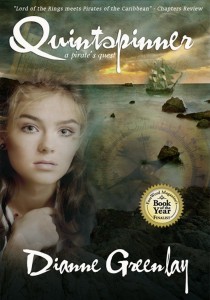 Quintspinner – A Pirate's Quest
by Dianne Greenlay
Genre: Historical (Historical Romance, Historical Action and Adventure)
Word count: 103,000
A secret and unauthorized trip through the chaos of a 1717 London marketplace takes a bizarre twist for 16 year old Tess. Unexpectedly witnessing the murder of a renowned Seer, Tess becomes the keeper of the old woman's legendary spinner ring and its supposed power of prophecy. Returning home, Tess bears the brunt of her father's rage when he is informed of her disobedient excursion. An ensuing altercation with her father leads Tess to the discovery of a family secret that stuns her.
Even so, she never imagines that she will soon find herself forcibly betrothed to the murderer and trapped on a ship bound for the pirate-infested waters of the West Indies. With increasing dread, she realizes a growing attraction that she has for a handsome sailor puts both their lives at risk. Moreover, she quickly discovers that her ruthless fiance covets her only for her ring and its power, and will stop at nothing to obtain it for himself.
The stakes for survival become unbearably high when she is thrust into the hands of a marauding band of pirates, and she must make an agonizing and life-threatening choice for herself.
A tale of pirates and treasure, love and betrayal, all bound together by a dash of ancient magic, Quintspinner has been described by readers as "a wonderfully entertaining, fast and furious ride; Lord of the Rings meets Pirates of the Caribbean".
This book is available from Amazon and Barnes&Noble (paperback).
Dianne, how did you come up with the title for your book? Does it have any special meaning?
Five Spinner rings figure predominantly in the story and "Quint" sounded much more exotic than "five"! Fashioned after ancient Tibetan prayer wheels, spinner rings are still used today and are said to assist with manifesting prophesies and desires such as wealth and good health.
Who was your favorite character and why?
The protagonist Tess was so sheltered and grew so enormously in confidence throughout the story that I really loved her, but her grandmother, Mrs. Hanley was a feisty and determined woman with a great sense of humor, who unexpectedly stole my heart.
Does your book have any underlying theme, message, or moral?
It shows that often we take for granted all that we have – family and love included – and don't realize the true wealth that these things give us until we are threatened with their loss.
What would/could a reader or reviewer say about this book that shows they "get" you as an author?
"Words quite escape me. All I can think is thank you. You have written a story full of lessons and love, showing its readers that no obstacle is insurmountable. Thank you for that. :)"Andromeda 16 (Wattpad reader)
Give us an excerpted quote from your favorite review of this book: 
Hooked From the First Page! "I felt like I was grabbed by the collar, pulled into the pages, and swept away on a wild pirate adventure. What a ride! I couldn't put it down, and I'm eagerly awaiting the sequel."
Where can people learn more about your writing?
http://www.diannegreenlay.com