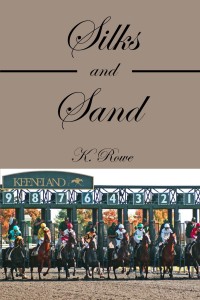 Today we have a sneak peek from the contemporary romance novel by K. Rowe, Silks and Sand.
Racing horses and racing hearts; it's all part of the Stoddard dynasty. Evan Stoddard inherited an ages-old farm in the heart of Kentucky horse country. He's a winner in many respects: winning with horses, winning with love, and a winning smile. And he's won a beautiful wife: Suzanne. But his winning ways will be upturned with the arrival of a new horse, War Monger; and a female jockey, who sends every man on the farm into a tailspin, and sends his marriage into a downward spiral.
Silks and Sand is available through Amazon.com, Barnes & Noble, Smashwords, and Amazon UK.
Here is an excerpt from Silks and Sand…
Dusty Rose made a move toward the front. Ginger didn't even use the whip to ask, the filly decided to do it on her own.
Slipping the reins slightly, Ginger gave the filly her head. There was an immediate burst of speed as the horse dug her toes in and ran harder. Ahead, clear track and the finish line a few hundred yards away. "Go! Go!" she cheered, flattening out, and letting the filly go. To her left, she heard hooves approaching. She glanced back under her arm, seeing another horse closing fast.
Not wanting to rattle the filly, she decided against the use of the whip. Dusty Rose would run her race without extra urging. As the horse on her left went to pass, the other jockey used his whip and gave Ginger a firm smack on the behind.
"Hey!" she yelled, her temper boiling. The other jockey laughed and whipped his horse.
"Asshole!" she called, urging her horse on faster. The filly obliged. She caught up to them a few yards from the finish line. Ginger took her whip and smacked the jockey on the shoulder with it. "How dare you!" She crossed the finish line, winning the race by a head.
Not even ten minutes later, both jockeys stood in the steward's office. Evan came in, joining her. "What's the problem?" he asked.
"We've reviewed the video and found your jockey fouled the rider of the number two horse."
Evan turned to her. "Ginger, is this true?"
"Of course I hit him, he hit me!" She spun around, putting her backside to them. "You wanna see where he hit me? I got a red whip mark across my ass!" Grabbing the waist of her breeches, she was just about to pull them down when the steward waved his hand.
"That's enough," the steward warned, regarding the other jockey. "Did you hit her?"
There was a long silence before he finally answered, "Yes."
"You're both fined five thousand dollars and suspended for two days."
Ginger gasped. Stakes day was in two days. She felt horrible for putting Evan in such a predicament. He probably wouldn't be able to find a jockey for the day, and hundreds of thousands of dollars in purse money now lie in jeopardy. Not to mention the entry fees he'd paid for the horses to run.
 ****
Sitting on a bench tucked away in a corner of the grandstand not far from the jockeys' room, Ginger cried. She couldn't believe her rotten luck. Despite her tenuous first few weeks working on the farm, she'd grown to appreciate being in Evan's employ.
She found him to be probably the most caring, fair, and compassionate owner she'd worked for. And she definitely had a spot in her heart for Tom. Their secret relationship had been blossoming as of late. Now it could all be over.
Ginger knew better. She should have controlled her temper, finished the race, and filed a foul on the jockey. Instead, they were both being punished. Stupid, stupid mistake, she thought, trying to wipe the tears from her cheeks. Evan could easily fire her over behavior like that. He was a businessman and horses were his life.
---