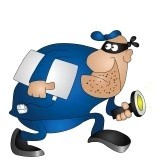 I admit it: when I ran across this article in Salon, I giggled a little at the title: "Most Contemporary Literary Fiction Is Terrible". In it, J. Robert Lennon refutes a column by another writer who suggests that young literary fiction writers should be reading the stories that are getting published in their genre, and familiarizing themselves with the best anthologies of short fiction, the literary magazines, and so on.
I giggled because I am a reformed literary fiction writer, a proud graduate of a master's program in fiction writing where literary fiction was touted as the only really, truly decent fiction to be writing. When I was in grad school, I read a bunch of these publications on a fairly regular basis – sometimes for class, sometimes on my own. And for the life of me, I couldn't figure out how some of the stories had gotten published. Maybe the writing was pretty good, but the ending didn't make sense – things would sort of wind down in a burst of lyricism without resolving any part of the plot. Or, more often than not, the writing wasn't any better than the stuff we were turning out in class – yet these writers had gotten published while we were collecting rejection slips.
Lennon's article confirms my suspicions. "Fiction writing is ludicrously popular," he says; "too many people are doing it, and most of them are bound to be bad at it. MFA programs, while of great benefit to talented writers, have had the effect of rendering a lot of lousy writers borderline-competent, and many of these competent writers get stories and books published." He also says that encouraging MFA students to read only in their genre limits the discourse, to the point where stories become (and I'm using his words here) hackneyed, insular and boring.
Insular! No wonder I couldn't figure out why all those published stories ended the way they did – I wasn't in the club. Even when I was in grad school, trying to be like the other literary writers, I knew in my heart that I did my best work when I wrote fantasy.
Lennon strikes a blow for reading outside one's genre. Literary fiction writers, he says, are in the enviable position of being able to steal from any genre. (No kidding; I've ranted enough times about magical realism being nothing but fantasy with an accent.) He encourages students to read broadly, as a way to bring freshness to their own work.
Hmm. I'm pretty sure that street runs both ways. There's nothing wrong with, say, fantasy authors stealing from, say, literary fiction. Maybe not in terms of the boring, insular stories of collegiate manners – goodness knows we've got plenty of those already – but in terms of the attention to word choice, the phrasing, the interior monologues that give insight into a character's motivation, and so on. Raiding the literary fiction closet for some of their tools can make your work in your favored genre that much better.
I'm giggling again. But this time, it's in anticipation of reading great stories in all sorts of genres, with endings I actually understand.