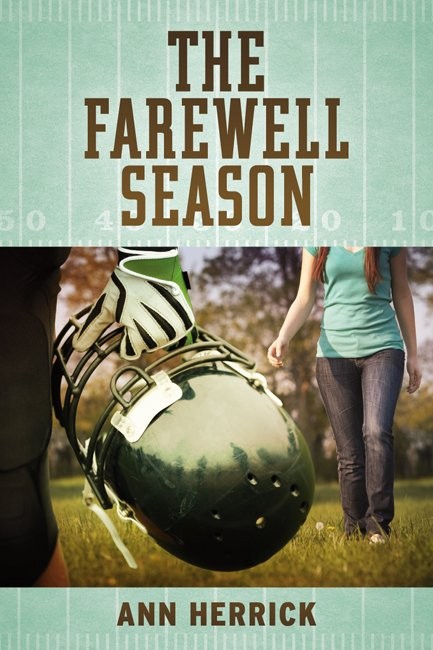 Today we have a sneak peek from the young adult coming of age book by Ann Herrick: The Farewell Season.
Eric used to think he'd live forever, but not any more. As football season starts, he hopes he can live normally again after the death of his father, but his refusal to face his grief results in anger at his coach, fights with his sister, resenting added responsibilities, and disillusionment with football. It takes a special relationship with Glynnie, who is dealing with the divorce of her parents, to open his heart to love again, see he is angry with his father for dying and the way to get through grief is by grieving.
This book is available from Amazon, Amazon UK, and Barnes & Noble.
Here is an excerpt from The Farewell Season…
I slid the DVD into the player and wondered if I had the nerve to watch.
My finger rested on the remote. Usually I would have watched this thing fifty times in the past couple of weeks.
"Crap, just do it." I pressed the play button. Suddenly, there I was, watching myself playing football. It was just last fall, but it seemed like a million years ago. In a way, it kind of was.
I couldn't believe how skinny I looked. Not that being six-two and one-hundred-eighty pounds is usually considered all that puny, but for an inside linebacker who wants to play college football, it is.
I watched our game against the Agates. We beat them ten-zip. Coach Pickett said our defense was the best he'd seen all season. We overplayed the pass a couple times and got burned on the run once for forty yards, but we hung on and held them scoreless.
I watched myself run around the field and wondered if I could ever get so fired up again. Was that really me charging the running back, about to tackle him and make him fumble the ball?
Then it happened. The ball popped out of the back's hands, the crowd roared—and I heard it. My father's voice.
My breath froze in my throat.
I always heard my Dad yell when I made a big play. He'd let out a scream as loud as thunder. But I forgot I'd hear his voice now. I hadn't heard it in four months.
Not since Dad died.
I coughed to get rid of the icy lump in my throat and hit the pause button.
"Oooh!" My sister, Kirstin, bounced into the room and eyed the still picture. She had to know what I was watching, and why, and the significance of it, but all she said was "Reliving your glory days, Eric?"
"Just shut up!" I lunged for her as she made a run for it. I almost grabbed her long braid of silvery-blond hair, thick as the climbing rope in P.E., but I tripped over the cat. Before I knew it Kirstin flew out the door.
Pissed as I was, I wasn't about to go chasing her down the street.
I zeroed in on Starburst. Suddenly she was just one more female in a whole houseful that I had to put up with. "Dumb cat! Get outta here." I swung my foot in her direction. She flew up the stairs.
I let out a long, loud sigh. Why take it out on Starburst? So what if Kirstin was brattier than usual lately? I didn't have to lose the cool I'd so carefully cultivated over the years. I sat down on the couch and picked up the remote. When I looked at the TV screen I saw myself frozen in mid-air, my fist raised over my head in celebration.
I hesitated, then restarted the DVD. Dad's voice still mingled with the noise of the crowd. I tried to swallow the cold lump in my throat.
---