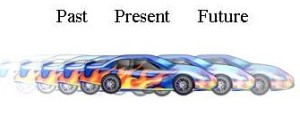 Tenses are the way verbs change to show when something happened, either in the past ("She went…"), the present ("She's going…") or the future ("She will go…" etc.). Most verbs have two 'aspects': continuous ("He was writing a book…") and simple ("He wrote a book."), which show whether an action was completed. Obvious enough, but the beginning writer has a number of pitfalls to avoid.
Simple versus continuous
Many beginning writers make the common mistake of using continuous aspects for emphasis, thinking that it will help set the scene, e.g. "The sun was beating down while the traffic was edging forward onto the freeway. John was guiding his pink Cadillac to join the flow, wondering if he should buy a more masculine car."
This awful example improves immeasurably when the verbs are moved to past simple: "The sun beat down while the traffic edged forward onto the freeway. John guided his pink Cadillac to join the flow and wondered if he should buy a more masculine car."
Continuous tenses do have their uses, e.g. to show a longer action being interrupted by a shorter action: "John was accelerating onto the freeway when the plane crashed a hundred yards in front of his car." However, working through your manuscript and removing as many continuous aspect verbs as you can is a vital part of the editing process before you publish. Only leave in a "was/were +ing" if it absolutely has to be there.
Reported speech
In written English, the rule is hard and fast: one tense back into the past:
Direct speech: "I will call you back when the meeting has finished."
Reported speech: She said she would call me back when the meeting had finished.
This can cause a problem for the beginning writer because, in real-life situations, we tend not to use reported speech. When we take a call as in the example above, it's natural afterwards to turn to the person next to us and say: "She said she'll call me back when the meeting has finished."
Thus, the rule here cannot be consistent. Your characters may not have such good English, so in dialogue reported speech is going to be down to them. If you're writing your story in First Person PoV, again it will depend on whether your narrator is educated or cares about correct grammar. However, if your story is in a Third Person PoV, then in passages of exposition you as the storyteller have to get reported speech right, e.g. "John slammed the phone down and told Celia that her mother would call back after the meeting had finished."
Active voice versus passive voice
Much has been written about this, but you should always prefer active verbs over passive verbs. Never write: "The house was painted by John," if you can write, "John painted the house." Passive voice forces an unnatural word order which obliges your reader to work a fraction harder to follow the story. It does have its uses: where the 'doer' of the action is not important ("The missiles have been launched…") or unknown ("My car's been stolen!"), and you might consider having certain characters use the passive voice to clearly distinguish them. In many stories, the villain often uses passive to speak in an aloof, formal manner, while the hero will talk more as an average Joe/Jolene.
However, it's worth noting that the group of people who use passive the most are lawyers, who, in an effort to be precise, usually end up tying themselves in linguistic knots. If you've ever read those terms and conditions that you have to tick on websites, you'll know that they are not an entertaining read; and if you use too much passive, neither will your story.
Noun/verb agreement
It's a minor point, but the grammar police do tend to get animated around collective nouns. Compare:
"The management board has decided to invest in futures."
"The management board are on vacation this week."
Both of these verbs are correct given the context; in the first the board acts as a single entity, while in the second each board member is separately on vacation. It only needs a little common sense, but a similar issue comes up with other collective nouns, including press, government, band, group, media, etc.
Using the internet
Finally, if you have any doubt over a verb form, fragment or sentence, it's worth consulting the internet. Put the question directly in the search window, e.g. "What's the difference between 'past' and 'passed'?" and you'll get thousands of results which you can consult and compare at leisure. Remember that as an Independent Author, you are taking responsibility for every aspect of the written product you put out there, and nothing shows a newbie up like poor use of English.
Right, that's enough of the finger-wagging lecture posts from me. I'll be back later this month with another Indie News Beat column. In the meantime, write on!