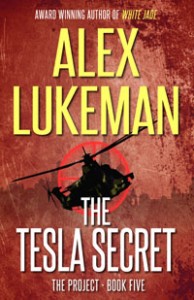 The Tesla Secret
by Alex Lukeman
Winner of the Best Indie Book Award 2013
Action/Adventure.
Book Five in the PROJECT Series
Plans for a devastating weapon invented by Nikola Tesla fall into the hands of a centuries-old conspiracy bent on world domination. Powerful men will stop at nothing to use the weapon to achieve their goal, even at the risk of nuclear war.
Nick Carter works for the Project, the shadow hand of the US President. Selena Connor is his teammate and lover. Their relationship will be tested to the breaking point as they are forced to question their commitment to the other and to the violent life they have chosen.
From the streets of Prague to the jungles of Mexico, from the hills of Tuscany to the plains of Eastern Russia, the story moves with relentless pace toward a final, explosive confrontation.
This book is available from Amazon.For more, visit the author's website.