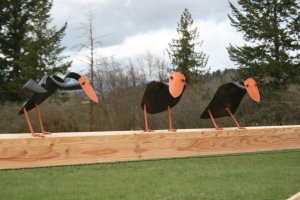 It was difficult for Professor Breverton to contain his excitement. Actual shovelhead ravens had never been photographed
He was president of the local chapter of the Oddobon Society, an organization dedicated to the documentation and study of animals thought to be mythological.
As he stopped to take a photo of the three shovelheads, he thought it strange that they did not fly away. One turned to look at him with its beady black eyes. Evidently, the Professor was unaware of the feeding habits of shovelheads.
In 250 words or less, tell us a story incorporating the elements in the picture. The 250 word limit will be strictly enforced.
Please keep language and subject matter to a PG-13 level.
Use the comment section below to submit your entry. Entries will be accepted until Tuesday at 5:00 PM Pacific Time.
On Wednesday morning, we will open voting to the public with an online poll for the best writing entry accompanying the photo. Voting will be open until 5:00 PM Thursday.
On Friday morning, the winner will be recognized as we post the winning entry along with the picture as a feature. Best of luck to you all in your writing!
Entries only in the comment section. Other comments will be deleted. See HERE for additional information and terms.