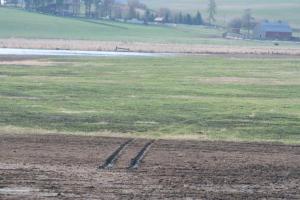 Their orders were simple: Follow the two witnesses and dispose of them.
Marco and Tony had done what they could. They followed the two little nerds out into the countryside. Marco had even thought how easy the mooks were making it for them.
It was late at night, and Tony was following the tail lights of the vehicle. Then the vehicle turned off the highway and started driving across a pasture. Tony was about to follow, when the tail lights just disappeared. They walked out into the pasture where the car had been. It just wasn't there.
In 250 words or less, tell us a story incorporating the elements in the picture. The 250 word limit will be strictly enforced.
Please keep language and subject matter to a PG-13 level.
Use the comment section below to submit your entry. Entries will be accepted until Tuesday at 5:00 PM Pacific Time.
On Wednesday morning, we will open voting to the public with an online poll for the best writing entry accompanying the photo. Voting will be open until 5:00 PM Thursday.
On Friday morning, the winner will be recognized as we post the winning entry along with the picture as a feature. Best of luck to you all in your writing!
Entries only in the comment section. Other comments will be deleted. See HERE for additional information and terms.