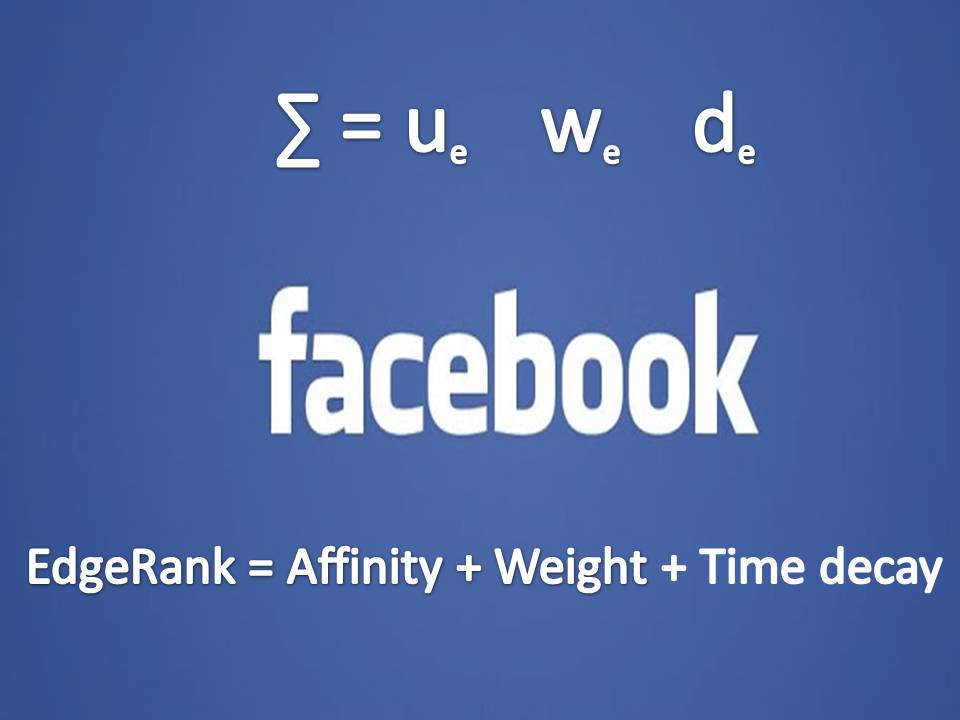 Facebook is the primary social domain of most writers and readers. While Goodreads may be more specific, no one can come close to the 1 Billion people on Facebook. However, we struggle with standing out in that huge crowd. Last week, I posted a few tips on what to do to get your posts in front of more eyeballs and you can find that post here.
Apparently, this struck a chord. A couple of the Indies Unlimited stars decided to try out a few of the tricks, and I'll tell you about that in a minute. First, let me give you a little more background on how Facebook works.
Facebook uses a ranking system called EdgeRank to determine where your post will show up, whether a picture, "Like," status update, cover photo update, or comment. Facebook crunches everything through EdgeRank.
Three factors determine EdgeRank, although only the peeps at FB know how they use this information.
Weight (Interaction): The type of interaction is determined by the value that FB assigns to the task. In the eyes of EdgeRank, typing a comment carries more importance than clicking the "Like" button.
Affinity: The interaction that you have with friends or fans helps you establish a higher affinity score with that user. People whom you regularly interact with will receive a better score … them, not necessarily you! It stands to reason that if they are interacting back with you, your affinity score will improve as well. However, it is a one-way street. If they don't return the interaction, there has been no benefit for you.
Timeliness: This one is kind of a … duh. Facebook calls it "Time Decay" … oooh. The newer stuff gets more attention.
Plug these three factors into the algorithm of EdgeRank and then Facebook will determine where you show up.
What? You mean my stuff doesn't automatically head to the News Feed?
Right you are!
You see, a while back, Facebook changed the News Feed. You heard plenty of people complaining that the posts were out of order; that's because there are really two different News Feeds—and you are in control of what you see. The objects with the higher EdgeRank score end up in the "Top News" Feed. Everything else falls into the "Most Recent" news feed. You can see which one you are viewing by clicking the "Sort" button on the top right-hand portion of your News Feed, and from there you can toggle to either feed.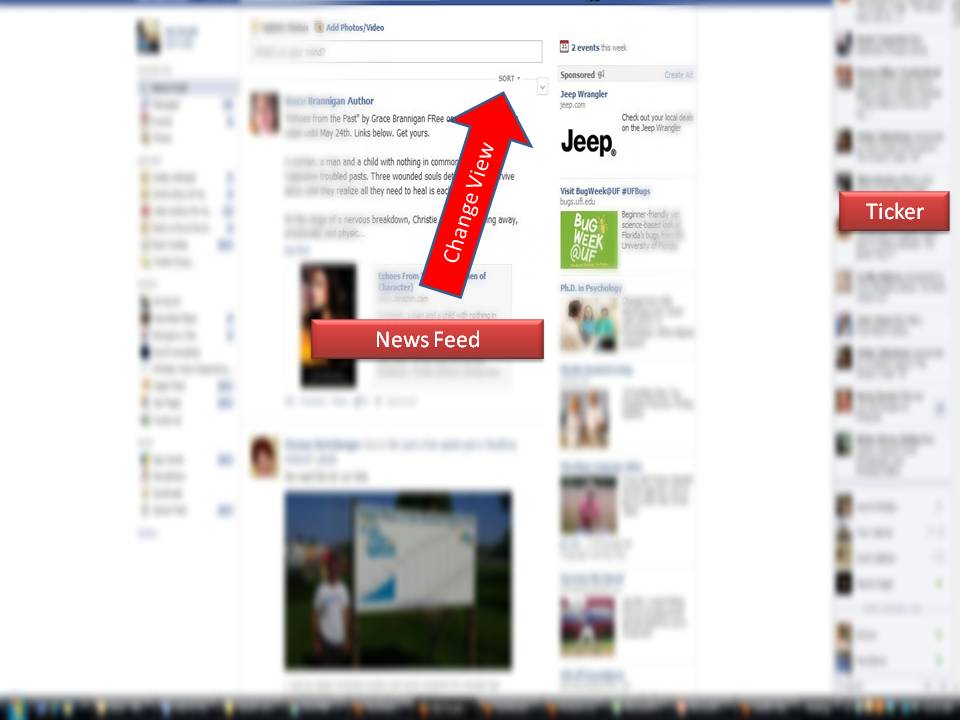 Still not seeing your stuff in the Feed? That could happen too. According to a month-long study conducted by The Daily Beast, your stuff might not show up there either. It's up to the users to set their personal settings on what they see. If the user has "Close Friends" selected, you might not make it to the "Recent" Feed. Check out your privacy settings to determine what you're seeing.
The big problem with Facebook is that you can dictate what you see, but not what others see. You might have 600 "Likes" on your Page, but if 500 of them only see stuff from their close friends, then you're spitting into the wind.
If you have a large interactive following, chances are your posts are showing up in the "Top News" feed. In the Facebook world, the more eyeballs that see your posts, the better off you are.
"But what about that thing on the right side?"
Oh, you mean the "Ticker." That's not a news feed at all, but Facebook's answer to Twitter. It is a running account of every action that occurred on Facebook from the people you follow or Like. You won't see status updates there, only actions that have been taken on photos, updates, friends, etc. If you post something, don't be looking to the Ticker to see it show up unless someone interacts with it.
Phew!
This is a lot of information. I promised I would share what Lynne Cantwell and Laurie Boris  experimented with so if you're still here, thank you.
Lynne posted a link on Facebook to her timeline asking anyone who saw it in his or her news feed to "Like" it. At the time of this writing, she had 23 likes out of 116 views. That's about 20% compared to what Facebook claims, that Pages reach 16-17% of their fans on any given post. Again, the setting that Lynne's "Fans" have dictates how many could possibly see it. The problem is, there are too many settings we have control over for privacy. Many times Facebook users don't even know what they get to see.
Laurie did a little bit different experiment. She posted a photo with an embedded quote. A typical post for her would draw between 50 to 150 views. Her photo post had already brought in over 500 views. That's about a 400% increase in the number of views.
So, there you have it. I'm exhausted, how about you? Is it all worth it? Who knows, but here's the takeaway…
It's all going to change!
More options are coming, with different types of "News Feeds." There will be about 10 different types of News Feeds. It's only going to get harder to reach the right people. Meanwhile, keep writing and forget about all this noise!