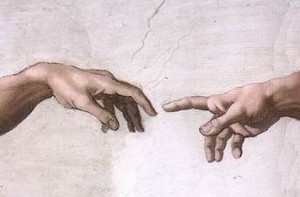 I was moaning to my daughter Kat earlier tonight about how I needed to write this post, but I had no idea what to write about. "The 14th Street sinkhole," she replied.
A little backstory is required here. A couple of weeks ago, a giant sinkhole opened at 14th and F Streets Northwest in Washington, DC. We don't typically get sinkholes in DC – exploding manholes, yes, but not sinkholes – so this one is quite the novelty. It has even developed its own personality, complete with a Twitter account and Foursquare check-in spot.
But an IU post about it? "My post kind of has to be about writing," I told Kat. "What relevance does a sinkhole have to writing?"
"Deus ex machina," she replied.
I had to concede the point. Having a sinkhole open up under a character in your novel is a pretty good example of a deus ex machina. Another, and one of my favorite cartoons ever, is the one where a mathematician has written part of an equation on a chalkboard, drawn an arrow to the phrase "then a miracle occurs," and drawn another arrow to the rest of the equation. The mathematician's mentor points to the phrase and says, "I think you should be more explicit here in step two."
To be more explicit myself, deus ex machina is Latin for "god from the machine." It's the plot device you reach for when you've written yourself into a corner and can't think of any other way to get your characters out of it. The phrase supposedly comes from a habit of some ancient Greek playwrights. They would use a crane to lower an actor playing a god onto the stage at a critical moment. Just when all is lost, the god descends from the heavens and poof! Problem solved!
Aristotle and Horace both considered it the lazy way out. (There's a killjoy in every crowd.) Ever since then, writers have been advised never to rely on this sort of miraculous plot device.
But in certain situations, a deus ex machina can be used to good effect. Let's say you're writing a comic scene. Part of what makes something funny is the element of surprise. So when J.K. Rowling has Hermoine Granger pull far more stuff out of her tote bag than could ever possibly fit into it – and when the thing she pulls out is exactly what Harry Potter needs to get out of his current jam – her readers laugh. But on the other hand, Hermione's bag isn't exactly a deus ex machina. Rowling has already set us up, as readers, to expect that her characters will use magic. So a tote bag that's larger on the inside than it appears on the outside becomes an acceptable, and even charming, plot device.
And it's critical for writers to know that a deus ex machina doesn't have to stay a deus ex machina past the first draft. If, on the rewrite, you can slip in some foreshadowing, in the form of a couple of lines about sinkholes (or exploding manholes) here and there, you can make your deus ex machina so believable as to be almost inevitable.