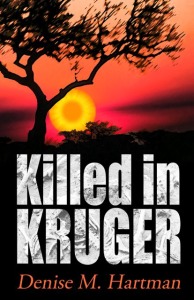 Today we have a sneak peek from the suspense novel by author Denise M. Hartman: Killed in Kruger.
Tabitha Krans arrives in South Africa's Kruger Park to discover the veldt seems to have swallowed up Uncle Phillip. Tabitha's afraid her writing career has disappeared along with him and dire things lie in wait for her as her mother had predicted. When Phillip turns up dead, she wants the truth. Her nosing around turns up suspicions of human trafficking, poaching and covert investigations but not many answers. South Africa holds dark secrets and deep beauty but it doesn't want to give Tabitha the truth. She keeps prying until someone believes she's a threat in need of elimination.

Killed in Kruger is available from Amazon, Barnes & Noble, Smashwords and Amazon UK.
And now, an excerpt from Killed in Kruger…
From Chapter 1:
Being MIA didn't seem to fit the faults that Aunt Rose laid at his door. He liked to spend his money on motorcycles and cameras rather than curtains and the fancy houses that Aunt Rose preferred. He didn't arrive on time for family get-togethers, but he'd never disappeared and failed to show up again. Something was definitely wrong. "We have canvassed the area around where we found the bakkie. I'm sure if he was ill, we would have found him." Souli nodded as if to reassure her. "So he has been missing forty-eight hours or so?" Tabitha looked at the two men of two different races and backgrounds, each in their distinct way trying to tell her something she didn't want to hear. They both looked away—Waggener out the window; Souli at a crack in the tile floor. They both nodded. "What do you believe has happened to my uncle?" she asked. Waggener sat forward in his chair. "Your uncle?" Tabitha nodded. Waggener exchanged a glance with Souli. "We didn't know he was your family. So sorry." "It is not normal for a person to go missing for very long in the park," Souli added. She drew a long breath. Say it. "Do you think my uncle is alive?" She looked at Waggener, who behaved as the senior authority in the room. His light-colored eyes shifted to Souli, who gave a faint shrug. "We won't know until we find him." "I asked what you think." "Well, Ms. Cranz, this is a park full of wild creatures and predators. We don't normally let people walk about unattended. If your uncle is still out there, he's in grave danger."
Chapter 2
Sunlight reflected off the blade of the knife as Mhlongo wiped it on the dead man's shirt. A bullet had killed the man quickly. Mhlongo didn't need someone wounded calling for help in the bush. A stupid guide might stumble on him before he was dead. No danger of that now. He nestled the body in a patch of meter-high spear grass. It was a good hiding place. The knife and the gashes he'd opened up on the body insured that the predators would smell him and make their way through the veldt to a free meal. The lions and hyenas weren't picky how their food got dead. Dead was easy. Dead was dinner. A horn beeped from the truck idling on the road nearby. Mhlongo stood and surveyed the spot once more, making sure the body couldn't be seen from the road and that he'd left nothing to indicate his presence. He scooped up the small bags at his feet and used a handful of the dry spear grass to eliminate his footprints as he backed away from the body.
---