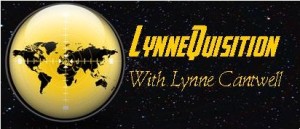 Everybody's got their own go-to list of blogs, but one that seems to turn up on just about every indie author's list is The Passive Voice. Passive Guy (the nom de plume for a lawyer named David Vandagriff) blogs about this and that, but mostly about writing and the publishing business, and it's always entertaining. I asked him to step out from behind the curtain and answer a few questions (muahaha…).
Lynne: How did a contract attorney end up blogging about the writing business?
PG: My wife has been a published author for 20 years. Almost three years ago, she went through a long process of trying to decide whether to keep working with her publisher or to self-publish.
I did a lot of research into self-publishing but couldn't find many good online resources that discussed the topic in detail. I started The Passive Voice to share what we learned during the process of self-publishing both her backlist and her new books. It metastasized from there.
Lynne: Your blog posts are eclectic as well as entertaining. How do you decide what to highlight?
PG: My first filter for a post is if I think it's interesting or helpful for authors.
I also receive a lot of suggestions for posts from visitors to The Passive Voice and pay close attention to those. On more than one occasion, I've seen an item and decided not to blog about it, but then changed my mind because a visitor I respect recommends it.
Finally, some individuals associated with traditional publishing display a propensity for making monumentally stupid remarks about self-publishing. Those will always show up in the blog.
Lynne: It's an understatement that publishing has changed over the past few years. Do you see any value at all today for a midlist author in pursuing a contract with one of the big New York publishers?
PG: This is a decision that depends a lot on what an author finds important. Some authors still place great value on being legitimized by a publisher. While I may have different thoughts, I always respect the author's feelings.
On a more pragmatic note, there are several factors to consider, but one of the most important is the amount of the advance. If it's not a big one, the book and author are not likely to get much attention from the publisher despite what the acquiring editor or the author's agent might promise. Absent a lot of attention from the publisher, the odds of an author making many sales or getting much attention from the larger book world are poor.
A big advance also means that the chances of an author being able to negotiate her way out of some of the more onerous clauses found in New York publishing contracts are improved.
Lynne: Do you see attitudes about indie publishing changing? Sure, a number of trad-pubbed authors have begun self-publishing their backlists, but I'm still seeing accounts of publishers and agents frothing at the mouth about how awful indie books supposedly are. I like to think they're running scared — but is that wishful thinking on my part?
PG: Attitudes towards indies are definitely changing. However, like many big trends, they're not changing at the same rate in all places and among all people.
Traditional outlets for publishing news are tightly-connected to their traditional publishing sources, so trash talk about indies is to be expected from people who are worried about their jobs. Some may actually believe what they're saying about indies, but there was a last person to realize the Titanic was sinking.
So long as Amazon remains an equal-opportunity market for indie authors, traditional publishing is going to be under siege because of the cost differential between an indie author and a publisher that's reflected in the prices of most indie titles and most traditional titles.
Lynne: Anything I forgot to ask?
PG: I'm a Scorpio. 🙂
Lynne: You're right – I did forget to ask. Thanks for stopping by, PG. See you around the blogosphere.