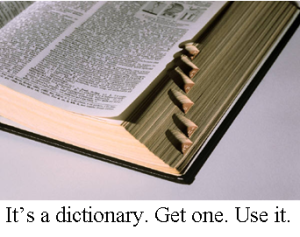 Maybe it's the weather. It's been really hot here, and when it's not hot, it's rainy. In any case, I'm feeling kind of cranky lately. So when I ran across this article about words we all might be misusing, I was in the mood to: a) shake my head at the misguided masses, and b) share it far and wide.
And then I read it again and realized that some of the words the blogger had flagged weren't really misused. Instead, the word's definition had changed over the years/decades/eons. That happens quite often. I mean, you aren't going to call a happy person "gay" these days, right? Not unless you know some additional details about them, anyway – details that may or may not have anything to do about their current emotional state.
Anyway, this realization made me crankier. So I came up with my own list of words whose misuse ought to be expunged from the zeitgeist.
Decimate: This does not mean to wipe out everything. What it means is to eliminate one in ten. See the first three letters? "Dec-"? What words do they remind you of? Decimal, maybe? Decade? And what do those things have in common? They have something to do with the number ten. So why would "decimate" mean to kill off everybody? (Yes, I know, December also starts with "dec-". That's because it used to be the tenth month, before the Romans shoved a couple of new months in at the start of the year to make the calendar balance out better.)
Literally: Jim Devitt touched on this in an earlier post. But it bears repeating, because my head literally exploded the last time I saw this word misused. Well, no, actually, it didn't. See? My head is still here, attached to my neck. And that's the problem with this word. "Literally" means word-for-word: "It literally says right here, and I quote…." But somehow it has come to be used as a substitute for "figuratively" in expressions where the speaker wants extra emphasis. This mistake has been going on for at least a hundred years. But you can be the change! If you want an "-ly" word for emphasis and you're tempted to reach for "literally," try "virtually." It sounds hip and modern, and you'll be in the ballpark, meaning-wise.
Orientate: Seriously? Who thought it would be a good idea to reverse-engineer a new verb out of "orientation"? The root verb of "orientation," ladies and gentlemen, is "to orient." You use a map, a compass, or a GPS to orient yourself. You cannot orientate anybody to anything because "orientate" IS NOT A WORD.
Awesome: Okay, I admit it, I overuse this word. Lately, it's the first thing out of my mouth when I want to express approval. But using it as slang devalues its impact. The first syllable in "awesome," after all, is "awe" – which is a mixture of respect, wonder, and dread. "Awful" is another word that comes from "awe." Now, "awe" is the sort of thing that makes you get down on your knees and beg to be allowed to continue living. So "awesome" really shouldn't be the first word that springs to your lips when the guy at McDonald's tells you that your fries are fresh from the fryer. (True story.)
Tell you what: I'll cut back my use of "awesome" if you guys will work with me on "decimate," "literally," and "orientate." Deal?