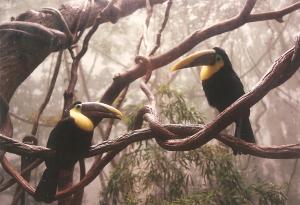 The toucans calmly regarded the human on the ground. He seemed in a terrible hurry about something.
"Well, that one's making an awful racket," said Sam.
"He looks as if he's trying to run away from something." Winona replied. "Maybe he's frightened of those humans behind him."
"Ground dwellers are such ridiculous creatures." Sam snorted derisively.
"I feel a bit sorry for him. They have such pitiful little beaks, can't fly a lick – I've really no idea how they manage to feed themselves at all. Perhaps we should help the poor thing."
"Oh really, Winona! You do carry on so. It's only a human, after all. Besides, even if he outruns those others, he's headed straight for that Jaguar."
Sam's indifference aside, Winona took flight to see what she could do about it.
"Winona!" Sam called after her. "I'm not coming along this time. Do you hear me?" He shuffled from one foot to the other, agitated at the whole situation. Why can't we ever just enjoy a quiet breakfast? I'm going to sit right here. You are on your own, old girl.
He shifted once more and ran his elegant beak down the length of his wing. As if there aren't enough humans. Ridiculous. He craned his neck, but could no longer see Winona or the running man. The little herd of angry humans was just passing below the tree. Well, perhaps I'll go over and just have a look.
In 250 words or less, tell us a story incorporating the elements in the picture. The 250 word limit will be strictly enforced.
Please keep language and subject matter to a PG-13 level.
Use the comment section below to submit your entry. Entries will be accepted until Tuesday at 5:00 PM Pacific Time.
On Wednesday afternoon, we will open voting to the public with an online poll for the best writing entry accompanying the photo. Voting will be open until 5:00 PM Thursday.
On Friday afternoon, the winner will be recognized as we post the winning entry along with the picture as a feature. Then, at year end, the winners will be featured in an anthology like this one. Best of luck to you all in your writing!
Entries only in the comment section. Other comments will be deleted. See HERE for additional information and terms.