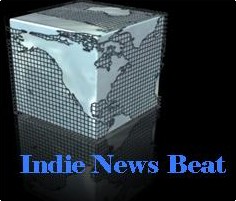 Ladies & gentlemen, boys & girls, friends & neighbors, cherished colleagues & valued frienemies, it is time once again for the Indie News Beat.
That's right, we do the heavy lifting so you don't have to. We scour the internet, sometimes for 15-20 minutes, finding all the news that's worthy of your attention.
Chris James is still at large. If you see him, call our hotline. Do not attempt to apprehend him yourself. He's very disarming and will not only escape from you, but will have you making him tea and knitting him sweaters. Perhaps I've said too much.
The Apple price-fixing case is still in the headlines. One of our faves, the Passive Guy, cites this article from PC Magazine, in which the judge in the case is a little disappointed that Apple and the Big Publishers are unrepentant about their illegal activities. In the mean time, it looks like the government wants the e-book thrown at Apple.
Through our underworld connections, we were able to obtain this rare footage from the trial:
In other news, the list of bad actors just never ends. Writers are lucky to have a few watchdog organizations, and Writer Beware is one of the best. If it's not in your bookmarks, it should be. They have issued an
expanded alert on All Classic Books
.  It's always a good idea to do a little research before you ink a deal with anyone. Here is
a link to their thumbs down list
.
The Digital Book World (DBW) e-book bestseller list is out, showing figures for the second quarter of 2013. It is interesting to note that indie-published titles continue gaining ground:
"Self-published works appeared 44 times in the DBW Ebook Best-Seller List, and produced two number one bestsellers, coming in at fourth place behind the top three publishers already mentioned."
Mediabistro reports that online bookstores now account for 44% of all book sales. The e-book share is now at 11% of sales. Things are not looking good in the long run for brick and mortar stores.
Between the Apple case and the increasing market share for online retailers, things are looking rosy for Jeff Bezos, who celebrated by buying the Washington Post. There is a lot of wild speculation about why he bought it and what he wants to do with it. Naturally, Bezos cannot be reached for comment. However, this article drew my attention when I asked myself why someone might want to own a newspaper. After all, that's a lot of cat litter. Could there be a connection? YOU DECIDE!