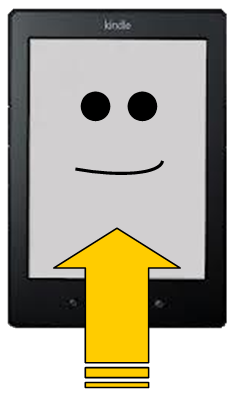 "Well, how do, ma'am. You must be new in town. I'm wonderin' iffin I could help you up on that thar sidesaddle of yourn. Just put your left foot here in mah hands and I'll boost you up…"
What?
Oh, sideLOAD, not sideSADDLE. Sorry.
Most of us know that Amazon sends us its Kindle e-books via that rainbow that arcs gently across the sky from Amazon-land to wherever we are, wirelessly, invisibly and oh so easily. But did you know you can also sideload your Kindle? That means transferring files to your Kindle from your computer. Don't worry; it's not rocket surgery. It's actually very easy.
First, take a look at the power cord of your Kindle. (Mine is old, second generation, so yours may look different.) If you've never noticed, that fat, fancy plug-in is actually two plugs in one. If you pull off the AC plug, you'll find underneath a regular USB plug. Plug this end into your computer's USB port. Your computer should recognize the "new hardware" and will list your Kindle as a drive on your directory tree. (More about this later.)

So let's say you buy a Kindle (.mobi) book from Smashwords. You download it to your computer and it will automatically suggest you save it to your Downloads directory, although you can save it anywhere on your computer (just remember where!). Open up your Windows Explorer (a browser for your computer, not to be confused with your Internet Explorer, a browser for online) and click on the directory Downloads. You'll see your downloaded mobi file on the right-hand side of the window.

Now scroll down on the left side of the window until you get to where it says Computer and it lists all the drives of your computer (C, D, E, etc.). For most of us, the C drive is the Local Disk and the ensuing drives are DVD or CD drives, USB ports, card readers—whatever you have where you can transfer data.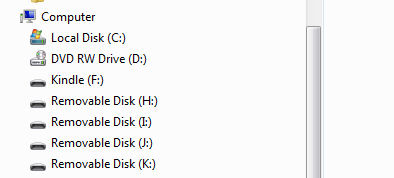 Find the drive that says Kindle. If you click on the little arrow to the left of the directory, it will open up below the drive name so you can see what folders are contained within your Kindle. (If you click directly on the Kindle drive name, the contents will load in the window on the right, but we want to keep that showing the contents of the Downloads directory as above.)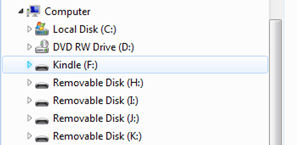 See the folder in your Kindle that says Documents? That's where the books are stored. Now it's a simple matter to drag and drop your new book into that folder. Click on the book title once to highlight it. Now, using the right mouse button, click and hold on that file and drag it across the window divider to the Documents file of your Kindle. When that Documents file becomes highlighted, release the right mouse button.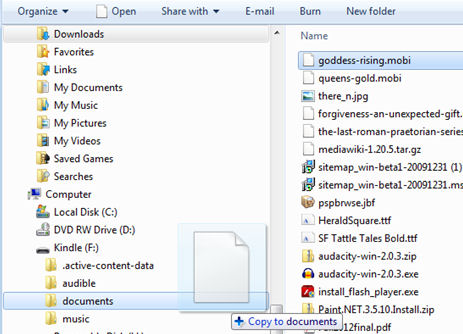 You will then get a small dialog box that asks you whether you want to "Copy here" or "Move here." If you copy, you will end up with the file in both locations; if you move, the file will be removed from your Downloads directory and will only be on your Kindle.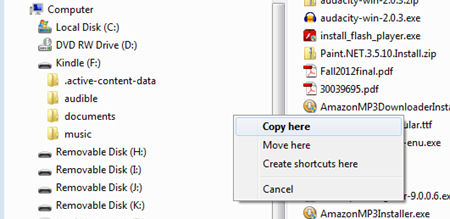 This is strictly a matter of personal preference. I generally copy it just to make sure the process is successful; I'd rather have it in two places (and delete one later) than have a computer hiccup that results in a lost file.
Now click directly on the Documents directory. The contents will appear in the right-hand window and you should see your file there. That means it's now on your Kindle and when you unplug from your computer and start up the Kindle, you should see the file in your table of contents.
Happy reading!