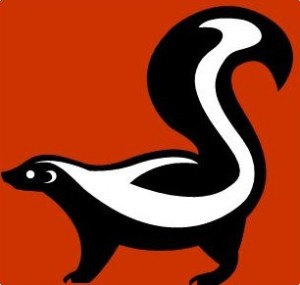 Some people think indies stink. That's a strange kind of bigotry in a culture that reveres artisan workmanship and reviles mass-produced cookie-cutter goods of every other sort.
Indies are innovative and original. We are the cutting edge. It's the big publishing houses that produce the bland sameness: the one-size-fits-all content.
If you saw someone making jewelry that looked interesting, would you ask them if it was available at Wal-Mart then decide if it's not good enough for Wal-Mart, it's not good enough for you? Yet it seems to me that is just how some people regard indie books. If it's not available on the shelves of Barnes & Noble (or whoever else is left in the brick and mortar book business) it must be because it's no good.
Some people think indies stink. That's the bad news. The good news is that these people are in a small and shrinking minority. They do not represent the views of the book-buying public. Numerous surveys show that book consumers care very little about a publisher's imprint.
In fact, as brands go, publishing house imprints have always been the weakest. People might get into fistfights over Coke vs. Pepsi, but no one ever said, "I only read titles published by Random Penguin Solutions because they only publish the best."
Among the people who do think indie writing stinks on ice are the members of the traditional publishing establishment including various related and interdependent sectors. That means brick-and-mortar franchises, much of academia, and the vast majority of literary award programs are not big fans of the indie movement. (Link to article in The Guardian)
Their awards are often little more than self-aggrandizement. In many instances, the so-called judges of these "award programs" are the members of the very publishing industry that produced the titles they judge. Where is the merit in that?
I question whether this really matters. I find it remarkable that indie published titles now routinely occupy best-seller lists alongside those vaunted guardians of the printed word. It would be impressive if the playing field were level, but we know it is not. We know that trad publishers have all the advantages of massive marketing budgets, prestigious affiliations and longstanding favor with the literati. We now also know of the numerous little tricks big ink has used to create the mirage of buzz and momentum behind their titles.
How we are viewed by these people becomes less important with every passing day because these people become less relevant every day. What they think, say, do, and like or dislike really just doesn't matter anymore.
They may have been mighty dreadnaughts in the past, but they are now merely rusting hulks. Their time has passed. Indies are nascendant (don't bother looking that up, it's a portmanteau I coined just for this article. You're welcome).
The stigma of self-publishing is fading fast. We do not stink.