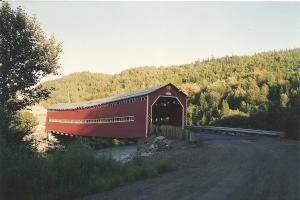 This is the Stone Creek Bridge on Jackrabbit Road. It's a little-traveled back route that used to be used by moonshiners during the depression.
Back in October of 1931, a fellow named Jack Keeley was driving a truckload of shine out to Springfield.
He never delivered that shipment. They found his truck the next day, stalled out in the middle of that old wooden bridge. Jack was there too – most of him, anyway. It caused quite a stir at the time, but over the years, I guess people forgot about it, or wrote it off to local legend. The problem is, it wasn't just a legend. Now it's happening again…
In 250 words or less, tell us a story incorporating the elements in the picture. The 250 word limit will be strictly enforced.
Please keep language and subject matter to a PG-13 level.
Use the comment section below to submit your entry. Entries will be accepted until Tuesday at 5:00 PM Pacific Time.
On Wednesday afternoon, we will open voting to the public with an online poll for the best writing entry accompanying the photo. Voting will be open until 5:00 PM Thursday.
On Friday afternoon, the winner will be recognized as we post the winning entry along with the picture as a feature. Then, at year end, the winners will be featured in an anthology like this one. Best of luck to you all in your writing!
Entries only in the comment section. Other comments will be deleted. See HERE for additional information and terms.