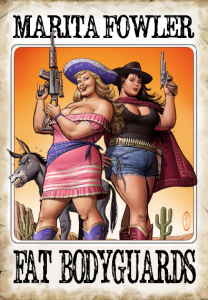 Fat Bodyguards
by Marita Fowler
Genre: Humor
Word Count: 75,000
Saucy calzones Shasta and Ulyssa have earned an honorary spot in the mafia with their wetwork, but the girls are ready to leave the crazy mob life behind and return to Nitro. They've got one foot out the door when a desperate Nicolo makes them an offer they can't refuse.
A fat paycheck to take his daughter on a vacation far, far away from New Jersey.
Still skittish from their last job, the girls are reluctant to sign on until he promises – no killing required. They quickly learn that being assassins was a helluva lot easier than protecting the mobster's spoiled teenage daughter, Princess.
Paranoia fueled situations keep the girls on their toes, but they're caught flatfooted when attackers kidnap Princess and disappear without a trace.
The only thing worse than guarding Nicolo's daughter…is losing her.
Not thrilled with the prospect of new designer concrete footwear, the girls scramble to find Princess and bring her home before anyone discovers she's missing. Armed with plastic guns and southern charm, they set out on the most perilous adventure of their lives.
They may be the worst bodyguards in the world, but they're planning the rescue mission of a lifetime.
This book is available on Amazon, Barnes and Noble, and iTunes.
Marita, how did you come up with the title for your book? Does it have any special meaning?
Fat Bodyguards is the second book in the Fat Adventures series. I came up with the title and concept during a road trip with my husband, but the content inspiration happened while we were on vacation in Mexico. We met some wonderful and unusual locals during our one week stay in Mazatlan and I tried to capture some of that fun in this book.
Who was your favorite character and why?
In this book, Nicolo was my favorite character. Even though he's a mob kingpin, you start to feel a tad sorry for him once you meet his dysfunctional family.
Does your book have any underlying theme, message, or moral?
You have to live your life 100%, regardless of size. The main characters are fat according to the BMI, but they're fabulous and strong.
What would/could a reader or reviewer say about this book that shows they "get" you as an author?
The book is about friendship and adventure. If Shasta and Ulysaa were real – I would want to hang out with with because they're fun and a tad crazy like a lot of my human friends.
Give us an excerpted quote from your favorite review of this book:
"The second of a series, with Fat Bodyguards being the first, Ulyssa and Shasta entertain in the style of Stephanie Plum – they're never quite sure how they got there, but it's fun reading how they get of the situations they find themselves in! I look forward to the next in the series, Fat Spies." Patricia, Amazon.
Where can people learn more about your writing?
http://www.maritafowler.com