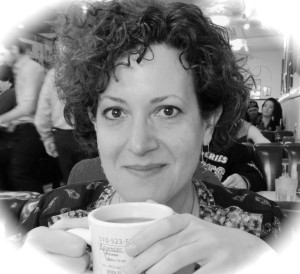 Guest post
by Ellen Plotkin Mulholland
I have two problems that make it difficult keeping up with this world.
First: I don't have a lot of time. Wait; let me place that in context. Life is busy, and I don't have the hours I once had to sit lazily on the porch and read the Sunday paper all afternoon.
Second: My attention span is not what it used to be. Blame it on our over-indulged world of fast food, 140-character summative quips, or the impatient and impulsive adolescent wiring that just won't go away.
As a consumer and reader, I can deal with it. I read the headlines, listen to TV news summaries while I cook dinner, fold laundry, check my email and answer my daughter's homework questions. I somehow manage to keep up with the world outside my home while navigating the numerous details inside.
As a writer, I daily and desperately seek to find balance in my world. Time to live. Time to write. There must be some middle ground, an oasis nearby in this desert of over-scheduled lives.
Don't expect this next line to reveal the hidden truth. I have found no magical answers. I have, however, discovered some tricks to getting the most of my own undivided attention.
First, I set aside time to write just as I would time to do laundry, cook dinner, or exercise. I don't chastise myself for missing my writing time. Just with the laundry, it'll be there later. Just with dinner, it might not be my best, and it may be later than usual, but we'll eat. I'll write. For me, early morning before the day works best. As with exercise, when I'm not feeling in the mood, I find that once I get warmed up, I am truly grateful afterwards for having carved out the time.
Following along with the exercise metaphor. Some days it's a longer cardio session. Some days it's brief muscle-toning sets. In short, I alternate my writing moments with long and juicy to short and punchy. I do what I can when I can. I am always happier for having written at least three sentences than none at all.
I work with the time I have.
Second, I impose a world of Zen around me. I tune out the business of my life, my desk, and what's outside my window; I tune in the deep and active world of my imagination. Like meditation, this takes practice and commitment. I find a mantra. I can do it. I tune out and tune in. I find my rhythm. I pull myself inside the scenic lives of my developing characters and allow them to carry me further into their worlds. Soon, my world falls away, and I am cascading within a landscape that moves from unfamiliar to familiar.
I stick with it. Tune out. Tune in.
If writing is your passion, find the time and joy to be with it. Consider how you complete all the other not-so-enjoyable tasks in your lives, and take that system and apply it to what you love.
Work with the time you have. Tune out. Tune in. Create. Find your joy.
---

Ellen Plotkin Mulholland teaches academic strategies to middle schoolers in a small Northern California town. She is a former freelance journalist and a newly published author. She is the author of two Logos Publishing House young adult novels, Birds on a Wire and This Girl Climbs Trees. Ms. Mulholland is available for readings and speaking engagements. Learn more about Ellen from her website.