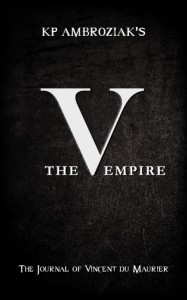 In 1216 BCE, Vincent du Maurier was promised an eternal life. Today, in 2052, he faces extinction as the outbreak of the living dead threatens his sustenance. When he finds one of the last human survivors, a pregnant girl, he decides to save her. For both the human and vampiric races, he must keep zombies from eating her flesh and vampires from draining her blood. Hoping to outlive the pandemic, he chronicles his attempt to salvage humanity … and himself.
The Journal of Vincent du Maurier, the first book in The Fifth Empire trilogy, by author KP Ambroziak, is available from Amazon, Smashwords, and Amazon UK.

Don't forget, you can cast your vote for trailer of the month on October 26, 2013 at 5 p.m. Pacific time.