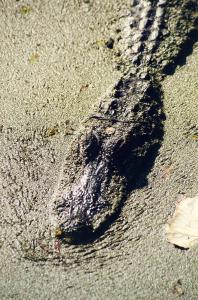 "I didn't bring a penny," I said.
Damien did his best not to look perturbed and fished a penny out of his own pocket to give to me. "Here," he said, proffering the coin. "Just make a wish, throw the penny in the pond and then jump in after it."
I took the shiny copper disk from him. "I'll make a wish and throw the coin in, but I don't want to jump in the water. It looks all slimy."
"You have to jump in," he said, "If you don't your wish won't come true."
I didn't want to argue with Damien. He had a reputation as being a little off-kilter, but there was no way I was jumping into that scummy pond. I tossed the coin, but it didn't make the splock sound I was expecting. It had landed on something in the water.
I turned around to see Damien rushing at me…
In 250 words or less, tell us a story incorporating the elements in the picture. The 250 word limit will be strictly enforced.
Please keep language and subject matter to a PG-13 level.
Use the comment section below to submit your entry. Entries will be accepted until Tuesday at 5:00 PM Pacific Time.
On Wednesday afternoon, we will open voting to the public with an online poll for the best writing entry accompanying the photo. Voting will be open until 5:00 PM Thursday.
On Friday afternoon, the winner will be recognized as we post the winning entry along with the picture as a feature. Then, at year end, the winners will be featured in an anthology like this one. Best of luck to you all in your writing!
Entries only in the comment section. Other comments will be deleted. See HERE for additional information and terms.