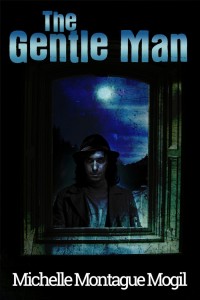 The Gentle Man
by Michelle Mogil
Genre: Paranormal Romance
Word count: 84,000
Anastasia Trent was the first to admit it: she had crested the peak and was now in her downhill years. Middle-aged and worn out, she's resigned herself to a life of drudgery and angst as she watches her marriage, job, house and body slowly but surely fall apart.
Enter a dark and compelling stranger who claims he's running for his life and begs for her help. Against all reason, Ana lets him in. Soon, she's questioning his sanity, her sanity, and reality itself. One thing's for certain: life will never be dull or ordinary again.
This book is available from Amazon, Smashwords, and Barnes & Noble.
Michelle, how did you come up with the title for your book? Does it have any special meaning?
My hero, Domn, is a strange and mythical character. And, like most of his kind, misunderstood, his nature shrouded in mystery and myth. Ana, by telling her story, seeks to dispel this myth and tell the world: he was, indeed, a gentle man.
Who was your favorite character and why?
Ana, of course, is my favorite. She's my flawed "Mary Sue".
Does your book have any underlying theme, message, or moral?
I have struggled with alcoholism for years and have yet to find an answer to my addiction. Ana is my way of exploring that addiction and trying to make sense of life on the other side of the hill.
What would/could a reader or reviewer say about this book that shows they "get" you as an author?
That it's first and foremost a story about what it means to be loved and, secondly, it's a cautionary tale: what looks like greener grass on the other side of the fence may just turn out to be Astro-turf after all.
Give us an excerpted quote from your favorite review of this book:
"It's not often a story features a firecracker of a grandmother with a colorful vocabulary and a taste for Jim Beam as the heroine in a romantic vampire love story."
Where can people learn more about your writing?
My blog: http://www.michellemogil.com/