Recently I've noticed that a lot of authors have released a lot of books. My powers of perception are amazing, aren't they? I know, I know, it gives me chills, too. In any case, another thing I've noticed is that authors with multiple books seem to have lost interest in their Amazon.com Author Central page. Their first two or three books will be listed, but then after that – those books are left to languish on their own without the comfort and camaraderie of the other books on that cozy Author Central page.
Claiming a book to an Author Central page is quick and easy. There are, in fact, two ways to do it. Allow me to show you how.
The first way (which I'm not convinced actually works) doesn't even require you to log in to your Author Central account. Convenient. Just go to your Author Central page and scroll to the bottom. That is where you will see this:

Click "Add or remove a book" (to the left of the handsome yellow arrow). FYI – you need to be logged into your Amazon.com account for this to work. You'll then get this screen: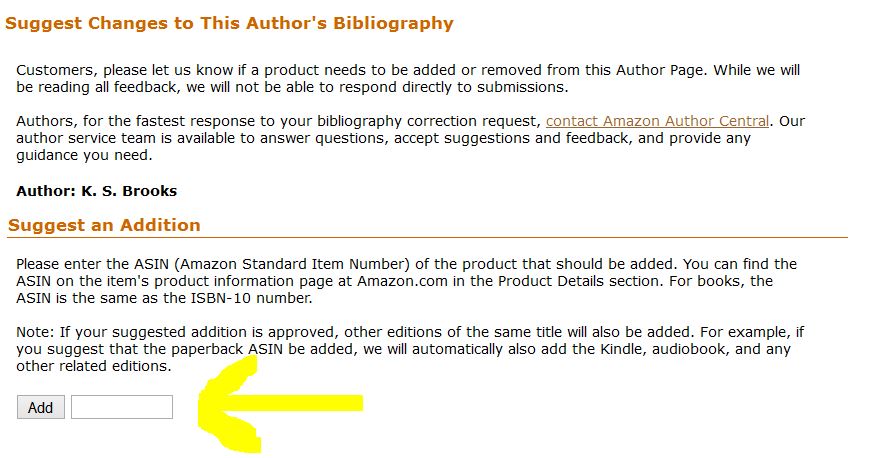 Enter the ASIN number of the book in the little window, then click add. (Notice Amazon mentions that this is NOT the fastest way to get a book added – while it's faster for YOU, it's not for them.) Once you hit Add, the ASIN number will come up below, next to a delete button. If you're ready to add that book to your Author page, just scroll ALL the way down to the bottom of that page and click "Preview your updates." You will then get the following screen for your review: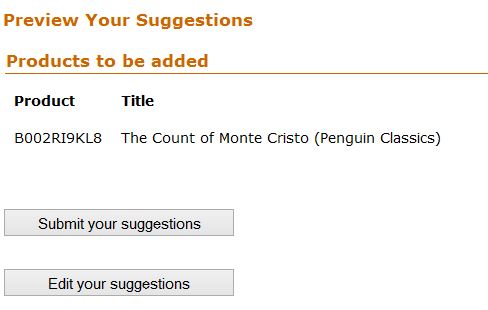 I used The Count of Monte Cristo as an example since Dumas stole the idea from me. He was such a copycat. In any case, if the book you want shows under the title, go ahead and click "Submit your suggestions." And you're done!
Next week, we'll cover the more complex but more reliable method of claiming a book to your Author Central page.
Meanwhile, study up. There will be a test. Here are some helpful links for you:
Amazon.com Author Central Page Tutorial
Amazon.com Author Central Book Edition Merge Tutorial
No, your book is not Linked to Your Author Central Page
Amazon.com Author Central is a fantastic tool for authors. Don't miss out on its functionality.