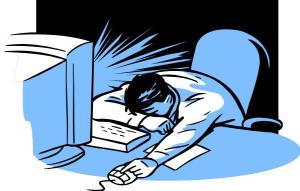 It's done! Yay! You wrote "The End" in your manuscript. You bask in the glow of accomplishment, of pride, of completion.
Isn't that the way it's supposed to be? You've worked so hard for so long and it's finally a done deal. Aren't you allowed to enjoy the fruits of your labours? Haven't you earned it? Of course you have!
I think most of us do feel that rush for a bit. But it doesn't last long – at least not for me. From what I have heard others say, many can relate. That euphoria doesn't last long.
So this is a post of self-exposure self-disclosure. Even before the last edit run came back from my editor I felt a let-down that hasn't let me go ever since. So, now I ask – is it post-partum? The weight that makes the whole thing feel like more than I can face?
I was proud of my accomplishment. But … then the rest of reality came rushing in. I had held it at bay for a while but the pressure broke the barriers. It's all those questions. Is it good enough? Will my fans like it as well as the other ones? How many errors are there still in it? How do I find them and fix them? Oh, yeah, that one especially. How do I fix them?
Then there's all the new work I have to do to get it out there. So I procrastinate. I plan. I think. I stress. I stress. I stress. Then I need to do at least something to relieve the stress. One thing to get me back to the point where I can procrastinate again.
I got it formatted. I even loaded it all by myself onto Smashwords and Kindle. Then onto CreateSpace and ordered that proof – the book in hand that says "You really did this." Ah, but where is that glow? Why do things feel so bleak?
I have my posters, bookmarks, and new business cards. They look great. The hall is booked for my local launch. The food and coffee sponsors are confirmed.
The sneak peek is up on my website. I even have an interview written up and ready, as requested.
That's all good, right? I should feel proud, right? Nope. It's not good enough. All I see is what isn't done. The Facebook event I haven't set up. The emails, tweets and Facebook announcements I have not done. The other promo sites I have not submitted to.
And those picky, rotten, little editing errors that keep showing up at the most inconvenient times – like after I've already loaded it up, kissed it goodbye and sent it merrily on its way. Those are the worst. It's a new thing I have to learn, see. On the torture rack computer – the bane of my writerly life. It hates me, see? It won't cooperate. It mocks me.
So, I procrastinate. I try to tell myself there are not enough errors to worry about. I don't really need to pull the whole thing down and correct them. They're so tiny, so few, so insignificant. Right? Hah! No, no no, that will never do. I already worry about them, so I've already made a liar out of myself. Those pesky things have to go. Maybe, tomorrow. Not now. Not today. I play Facebook games and solitaire. It's boring but at least I'm not doing what I need to do. (Er, what? Are you mad? That makes no sense.)
I procrastinate. I go to bed. I fall asleep. And I wake up – in a sweat. It's three a.m. No more sleep for me. The anxiety won't let me relax. The gloom descends.
So, any fool can see that I have done a fair bit. There is more to do but – really – haven't I accomplished a lot already? Can't I see the good things? Of course not. It's never enough – never good enough. There's always more that's needed – like hashtags to learn to use, links to add, images to put into posts … oh, sorry, am I ranting off topic now? Sigh. I didn't mean to go there. It won't happen again. I promise. Yes, you did say you'd help. I am grateful. Really. Don't hate me. (Heavy sigh).
So, I ask you – is it post-partum?
(Disclaimer. While some of this is true much of it is tongue-in-cheek. I don't need an intervention – honest.)