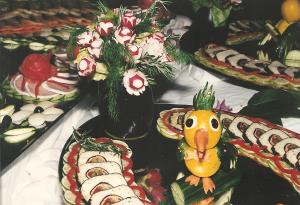 "Presentation is an important part of elegant dining," Margo said.
I looked at the stupid little bird made out of some sort of vegetable I'd never eat under any circumstances nestled among other food I didn't want.
In fact, considering the spread was for my birthday party, there was nothing here I wanted. It was classic Margo. "It's a goofy-looking little bird. What's elegant about that?" I grumbled at her.
"It's whimsical," she smiled at me, oblivious to my disappointment, as always.
I shrugged in resignation. There was just no winning this kind of discussion with Margo. There would be guests I didn't want, standing around making small-talk I wasn't interested in.
At least, I thought that's how it was going to be. As it turns out, I underestimated Margo.
In 250 words or less, tell us a story incorporating the elements in the picture. The 250 word limit will be strictly enforced.
Please keep language and subject matter to a PG-13 level.
Use the comment section below to submit your entry. Entries will be accepted until Tuesday at 5:00 PM Pacific Time.
On Wednesday afternoon, we will open voting to the public with an online poll for the best writing entry accompanying the photo. Voting will be open until 5:00 PM Thursday.
On Friday afternoon, the winner will be recognized as we post the winning entry along with the picture as a feature. Then, at year end, the winners will be featured in an anthology like this one. Best of luck to you all in your writing!
Entries only in the comment section. Other comments will be deleted. See HERE for additional information and terms.