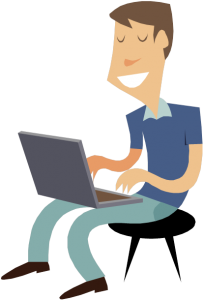 Your book's feature is finally live on Indies Unlimited. Now what? You've gone through the trouble of querying and submitting. We've gone through the trouble of vetting, preparing, and broadcasting your feature through our enormously impressive social media channels. What have you done with it?
Here are some tips to help you get the most from your book's feature (and/or guest post). Most of these tips will work for you even if you're running a feature somewhere else, although we really can't imagine why you'd choose any site other than Indies Unlimited. With our sick Alexa ranking, it's clear we're all that. And a bag of chips. And maybe some dip, too.
#1 – Share it on social media when it goes live. Feel free to use the share buttons on the bottom of your feature, and post it not just on your Facebook profile, but also in Facebook groups, Twitter, LinkedIn, Pinterest, etc. Get the broadest coverage possible.
#2 – If you've got a WordPress account, use it to "like" the post. That will show in your WordPress activity and will help others discover your feature.
#3 – Include the feature in your weekly/monthly/quarterly e-newsletter.
#4 – Write about it on your blog.
#5 – If you've run a Book Brief or Sneak Peek feature with us, you can use it as part of your book's media kit or feature page. (All of my books have their own page on my web site, and include "read a book excerpt here" with a link to my sneak peek.)
#6 – Old features don't expire. You have a permalink which can be used forever. Repost it every so often so your new followers and people who somehow managed to ignore it in their feeds can see it. (Some authors programmed their HootSuite to tweet to the feature once a week for a year.)
#7 – If you've run a Video Trailer feature – don't forget the "Trailer of the Month" voting on the last Saturday of each month. This gives you an extra opportunity to get your trailer in front of folks. It also gives you the opportunity to be seen by the followers of other authors. The votes are not tallied; it's just for fun, but it gives you yet another reason to get your stuff in front of people.
#8 – Make sure to read the email we send you detailing when your feature will run. Quite often we will include in that email what other free features your book is qualified for. We know when you don't read them all the way through because so far no one has entered to win the IU gruel sampler. Just saying.
#9 – You may not think of Thrifty Thursdays or Print Book Paradise as "features," but they actually are. Don't just dump and run. Post the link and let people know about the wide variety of deals available there. This way, you're not screaming "BUY MY BOOK" to people. You're doing them a service by alerting them to super deals (including yours). Last week we had over 60 titles on Thrifty Thursday. If each author had posted the link to their social network, and let's say 10 "friends" clicked through – that would have been close to 600 people checking out the titles. Put these features to work for you.
#10 – The Indies Unlimited Bookstore is another way to promote your book without yelling "BUY MY BOOK" at folks. This is another good reason to read that confirmation email we send you. When you receive that email, your book should be on the front page of the IU Bookstore. This is a great time to share the link to the store and when your peeps go there, they'll see your book front and center.
So, on those days when you're at a loss for what to post on Twitter, Facebook, or anywhere…post the link to one of your features. We work very hard to put out a high-quality post for you – all for free – so put that feature out there. It only takes a few clicks and you'll be glad you did.