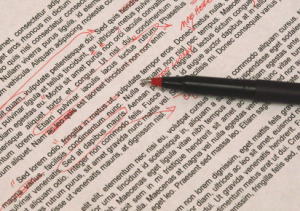 Periodically a new blog post or article surfaces that complains bitterly about the proliferation of indie authors, the inundation of the unwashed that is swamping Amazon and muddying the waters for the traditionally-published. This almost always boils down to two major points: (1) just ANYbody can self-publish (which obviously is very true but sounds suspiciously like sour grapes to me) and (2) indie books sometimes (maybe more than sometimes) need more editing than they get. Very often these posts bleat about the fact that if authors wait and work to be picked up by a traditional house, they will have the benefit of thoughtful, detailed, professional editing and will, therefore, produce better books.
I beg to differ.
My first book was published in 1984 by a New York house. The book was complete when they optioned it and they never suggested so much as a comma to me. The fact that they accepted the manuscript verbatim and had zero editorial suggestions seemed like a silent nod of approval, and on good days I could believe that if I wanted. On bad days, I might just believe they deemed the book "good enough" and were not interested in spending time polishing it. When I got a letter from them saying I needed to add 70 pages to get to the proper page count, there was no hint of what the content should be. Story line, plot points or character development all seemed to be of no concern whatsoever. I duly added the pages, resubmitted them, and the book went to publication without any other changes. Even my few typos went in exactly as my fingers mangled them.
A far cry from the cozy dinner-and-coffee tete-a-tetes we see between authors and their editors in the movies.
Meanwhile, I'd finished my second book and asked if they'd like to see it. Yes, indeedy; send it on in. I did, and as before, they never uttered a word of editorial wisdom, just accepted the book as written. Oh, except for the fact that for this one I needed to cut 50 pages. The dreaded page count reared its ugly head again. No other suggestions of what areas might be cut, just get the page count down.
By the time my third book was optioned in 2000, the entire publishing landscape had changed. The big New York houses were concentrating all their efforts on sure blockbusters, and so small presses were springing up everywhere to take up the slack. It was a novel and heartening experience to work with an editor of a small press. No, we didn't sit down and have coffee as we pored over my book, but we did e-mail just about daily about everything from chapter headers to fonts to white space. Although, again, he did not offer a single suggestion about editing, the collaborative experience was about 1000% better than what I'd experienced before.
My next two books were also picked up by small presses. One was published with no changes to the text, no editing whatsoever. With the second one, to my great surprise, my editor actually made some suggestions—three if I recall. She suggested alternate text in two locations, both of which I declined to change, and then flagged some confusion over a name that I had not realized I had used twice in different circumstances. I quickly amended that and the book was good to go. It was nice (1) knowing she actually read the book and was thinking of ways to polish it and (2) having that give-and-take relationship where we could discuss the problem areas and agree on resolutions.
Still no coffee, though.
Now I have moved into the realm of self-publishing, which means I supply my own coffee and my own editing advice. I do, of course, rely heavily on friends (both readerly and writerly) and family to read and give feedback, but on the whole this is not much different than what I've done all along. I was going to say that the editing process when I was traditionally-published is exactly the same as the one now when I self-publish, but that's not entirely true.
As an indie writer, I now get more editing input than I ever did when I was traditionally-published.
Back in the 80s when I was dealing with the New York house, this was the day of query letters via snail-mail and lugging 20-pound double-spaced manuscripts to the post office with a hand truck. I wrote in isolation, could count my willing beta-readers on one hand and exchanged terse letters with my publisher once or twice a year.
Fast-forward to now.
With social media forums like Goodreads, LinkedIn, Facebook and Twitter, I belong to numerous writing communities filled with extremely friendly and helpful writers and readers who are happy to beta-read. On my last book I had no fewer than about 10 or 12 beta-readers, and each gave me very thoughtful and very different feedback. As always, I carefully consider the notes and suggestions, take it all in and feel how it fits (or not) into the story, and use what is appropriate. In this day of instant communication and global communities, I actually feel as if I have a veritable smorgasbord of editorial assistants available to me—way more than I ever had with traditional publishers.
And what's really great is that my "editorial staff" never makes comments about what's trending now or about what's worked in the past. It never warns that my book doesn't fit nicely into a prescribed genre or that marketing might be difficult. My editorial staff critiques the book as informed readers and professional writers do, noting what works to propel the story along or what hinders that forward progress. My staff concentrates not on what's currently selling but on how my story can reach its potential and be the best book it can be.
As you can see, I've got the best support team in the world.
I wonder what the nay-sayers would say to that?