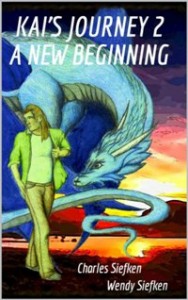 Kai's Journey 2 A New Beginning
by Charles & Wendy Siefken
Available from Amazon.
Kai has lost his memory due to the two viruses fighting within him. Now he is trying to discover who he is as well as control the werewolf urges that flow like raging lava through his veins. Clover is desperately trying to guide him to his own past as well as keeping them alive. She travels with two others as they fly south to find a man who can create a talisman to help Kai maintain control. The odds stack against them and the future looks bleak. The militia has captured some of their people, and the world still stands on the brink. Will Kai regain his memory in time to save everyone? Find out in the continuing adventure of Kai's Journey.