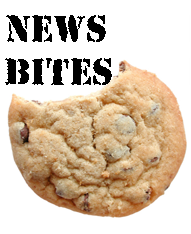 It is time once again for NewsBites – a highly irregular feature wherein we search high and low, far and wide, down the street and across the globe for the tastiest tidbits of news in the world of publishing. Sure, you can find better news and you can find faster news, but you won't find snarkier news anywhere.
Here at Indies Unlimited, we use only the finest, hand-selected organic snark – not because we have to, but because we can. Here is what's happening outside somewhere:
The Economic Times of India featured an interview with John Makinson, chairman of Penguin Random House. In case you didn't know, the merger between Penguin and Random House made this new entity the largest publishing company in the world. That's not even counting their acquisition of Author Solutions. Speaking for myself, the interview was sort of blah. Makinson uses a lot of words to say nothing much, but that is what CEOs do. If there was one takeaway quote, it was his answer to the question about the merger:
"…in a merger you look for areas where you can do things better and more cheaper."
Now you know why this guy gets the big bucks. I guess indies can't get anywhere with big publishers until our writing is more gooder.
In what I can only describe as a sort of rambling article, The Guardian says some foreign writers find American literature massively overrated. Perhaps it is me, but I cannot seem to sort out whether these writers are complaining that they cannot find a market for their writing in their own countries because the readers there prefer American literature, or whether they are complaining that Americans don't want to read non-American literature.
Statistics from 2007 show that about 2% of books published in the UK and US are translations, as opposed to Germany (13%), France (27%), Spain (28%), Turkey (40%) and Slovenia (70%).
One of the blogs I like is Jane Litte's Dear Author. Jane sees B&N struggling with the Nook and foresees a future in which they re-commit their resources to print. Jane puts forward a compelling argument. While I see how this looks attractive on paper, I just don't see a behemoth like Barnes & Noble as being nimble enough to pull it off. When mass-extinction events occur, they never wipe out all life. It is the life forms that require the most food that die out, leaving smaller, more adaptable organisms to ascend. I think the big box brick-and-mortar bookstore is ultimately doomed. Go check out Jane's article and decide for yourself. Tell her we sent you.
If you're looking for an instant bestseller, Publishers Weekly has a list of the 9 best books that don't exist.
The Passive Guy gave us a glimpse at Joe Konrath fact-spanking the CEO of Kensington. You need to read the whole thing, but here is a taste:
"…over the course of 11 years it resulted in roughly $43k a year. And considering all the travelling I did (I signed at 1200 bookstores in 42 states and attended dozens of conventions, book fairs, and events) there was very little left over to live on.

"In January of 2013, I was able to get my rights reverted back to me.

"In the past 12 months, those titles have earned me $600,000.

"Consider that carefully, as the CEO of a large publisher. Once I was no longer under contract, I was able to make over 10x what I was making with big NY publishers."
And wrapping up the week is Joel Friedlander. Could it be that Ingram Spark is moving in to compete with CreateSpace? Well, they're moving in the right direction, anyway. Joel says:
Combined with Ingram's reach to 133 countries, and the possibility that it will mature into a single point for manufacture and distribution of your print books and ebooks, Spark has real upside potential.
That's all for now. Join us next week, when we answer the question: what bird would make a better logo for Penguin Random House now that they also own Author Solutions? The answer may surprise you. But probably not.