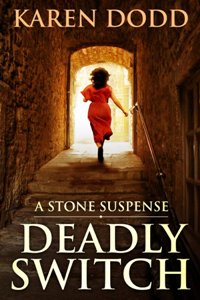 Deadly Switch
by Karen Dodd
Available in print or Kindle format from Amazon US and Amazon UK.
DEADLY SWITCH takes you on a wild ride from Italy's Amalfi coast, to the idyllic seaside town of Carmel, California. Gavin Stone's tormented daughter, Alexis, searches frantically for her missing father, matching wits with devious criminals. With demons of her own to fight, she shouldn't care about proving him innocent of murder and embezzlement—but she does.
Murder…intrigue… a romance built on a house of cards: this thriller will satisfy your thirst for the adrenaline rush that this intricately plotted story delivers. A delicious stay-up-all-nighter, DEADLY SWITCH stuns with its heart-pounding conclusion. You will not see it coming.
If you love suspense/thrillers, you will devour DEADLY SWITCH.