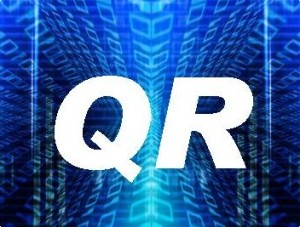 Last month I was busy making new business cards to distribute to unsuspecting tourists (see my post "Stop me and Buy One".) I checked out what information should be on my card and having established that I needed to put some of my book covers on the back, and an eye catching simple design on the front, I discovered that I should really add a QR code. Yes, those foxed me too, but wait a minute and you too will find out that QR codes are utterly brilliant.
The QR code was invented in Japan by a subsidiary of Toyota to track vehicles during manufacture. It was designed to allow high-speed component scanning and has since become one of the most popular types of two-dimensional barcodes. QR codes then became common in consumer advertising. Smartphone users or iPad owners can install a free app with a QR-code scanner that is able to read a displayed code and convert it to a URL, which in turns directs the smartphone's browser to the website of the company, store, product.
So, for writers it is a valuable tool. If you can put a code on your business card, the cover of your latest book or even your website, savvy iphone users will be able to be directed immediately to where you want them – where you sell your books.
You can get free QR codes from a number of sites including:
I chose http://goqr.me/ because it was very simple to use and I like simplicity. The first page on the website should look something like this: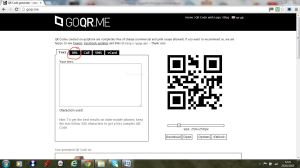 Note the empty box on the left. Click onto the black tab URL, highlighted above in red. You can tell I used to be a teacher, can't you? I love red pens.
Once there, type in the URL of the website you would like people to visit. It could be your author website but I chose to have people hot foot over to my Amazon page. Copy the URL into the appropriate box arrowed in this next picture: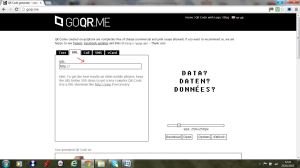 This will bring up a QR code on the right for your chosen website. You can change the size of the QR code to fit your website or card by adjusting the "size" button, circled below. By clicking on the "option" button below the code you can change the colour to suit too.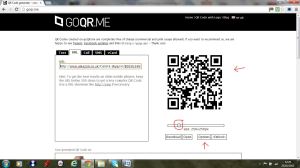 Press the "option" button you'll get a screen like this: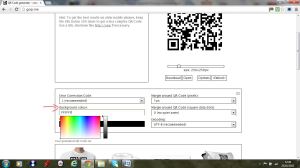 Now you can now change colours or play about and change the appearance if you really want to.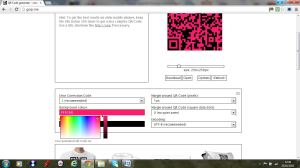 Having settled on a colour – no, I didn't go with the shocking pink- you are ready to get the information to put the code on your website or card. You will need to click on the button "Embed". A code will be generated for you.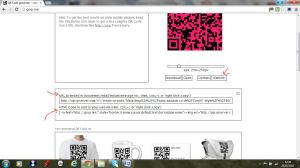 Go to your blog and bring up the necessary widget to place the QR code. I am on WordPress so I selected "widget" followed by "text". If you are on blogger, call up the "html box" and put in the embed code there.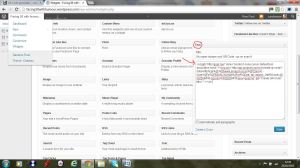 Once saved, it is now visible to all who read my blog. If they happen to be reading my blog while on their phone, they will be able to scan the code! To be serious for a moment, this is actually a really useful tool. You have the opportunity to direct people where you want them to go whether that be to your website or to a promotion you are doing. Our very own Carolyn Steele pointed out to me that they are very useful for .mobi devices too. Anyone who has a site as godaddy can associate it with a mobi and have the conversion done.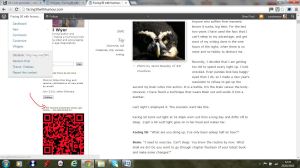 Should you wish to put your code on a business card, or the back cover of your books, then you will need to download it. Click on the "download" button. The site will then send you a download of the QR code that you can now save on your computer. It comes as a .png picture so you might want to convert it to a jpeg before saving.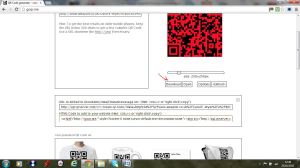 You could get carried away with QR codes and put them in all sorts of places, a t-shirt, your underwear or a mug as arrowed below. QR codes are extremely popular. Hotels and shops have them displayed on their windows or by the entrance. I quite fancy a QR t-shirt and let people scan me as I stroll about the supermarket.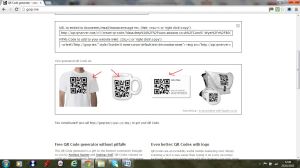 Don't miss out now you see how easy it is to get a code. Your new QR code can be added to your business leaflets, brochures, bookmarks or business card. I made mine smaller and put it on my new business card. To check it worked I scanned it with my smartphone and, hey presto, I was taken straight to my profile page on Amazon.
This is how my business card now looks from the front. Have a go scanning the QR Code and see if it works. If it doesn't, I'll have to throw away the 10,000 cards I have made!