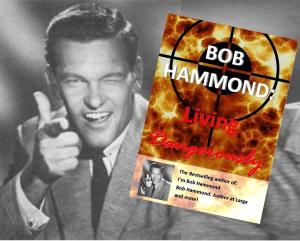 Bob Hammond here. I know, no introduction is necessary in that my reputation as a best selling author and rival to "The Most Interesting Man in the World" precede me, but I wanted to make sure I had your attention.
There's been a lot of hub-bub, to-do, and nonsense here recently on UI – what? It's IU? IU, UI, whatever – about narcissists as authors. At least that's what they tell me. Who's they? You know, the same they that tells you using cotton swabs on a stick is dangerous for cleaning your ears. Well, good. I've cleaned my ears with cotton swabs while jumping on a trampoline because I live dangerously. In fact, you can read about that in my new book Bob Hammond: Living Dangerously.
That's neither here nor on your street, but it's right up my alley. In any case, Ms. Cantwell and Ms. Bowersock went on about some online article that I didn't read because it wasn't about me. Some guy made some ridiculously broad comment stating that all authors are narcissists because they like talking about themselves. This is not true, and I am unanimous in that. Let me tell you why.
I don't write my books for me. I write them for you. I write them for you because I know you want to know what it's like to be me. Now call me kookie – go ahead, I dare you, I'll knock your lights out – but isn't that the most altruistic motive possible for writing – giving so freely of oneself to others? Of course it is. Because I said so. And I wouldn't steer you wrong. I thought I was wrong once – but I was mistaken.
So go ahead, little ones – write your books. But buy mine knowing that I write them for you, and that is the greatest gift you can give yourself. You're welcome.