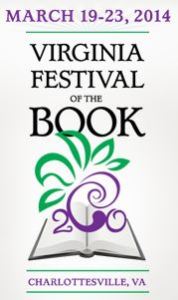 So, once you've published a book, platform building and marketing strategies are the next things to tackle on the to-do list. At the Virginia Festival of the Book, this past March 23rd, several authors and experts discussed the best ways to build platform and market books.
First up, we'll discuss platform building. Platform is more or less all the things that make up your author persona. It includes everything from social media to your work to your general reputation in the author world. Platform building is one of the strongest parts of your marketing strategy, but it's also the most difficult, the experts said.
"Your platform is part of your job as a writer," said Bethanne Patrick, author of An Uncommon History of Common Things who built a large following (186k) tweeting as @thebookmaven. "Many of us would rather be writing and researching. But it is not optional. It is something that has to be done."
Many authors are especially wary of social media, viewing it as a huge time-suck. So, when you're too busy, what thing do you give up? Gigi Amateau had a humorous response: "The thing you stop doing is the laundry. You go to Target and buy about six weeks of underpants," she joked.
Amateau, author of numerous children's books, then offered some serious advice. "Author platform is the inverted pyramid," she said. "The biggest part of the platform is the books. It is where I'm the most authentic, vulnerable, and risk-taking. That's the biggest part of my platform. The second priority for me is engaging with my community in person. The third little piece is where I would put online. I think there are ways, even as introverts, that you can fall in love with that."
Jane Friedman, former Writers Digest publisher who now teaches digital publishing at the University of Virginia, agreed. "Platform grows out of your body of work. That's where it all starts and ends," Friedman said. "The hope is it grows organically out of that. This isn't like drawing a line from point A to point B. There is a lot of serendipity involved. The most important thing is consistency and seeing your efforts pay off. You're not going to go home tonight and nail your platform and then not have to do it any more."
Denise Kiernan, author of the nonfiction book Girls of the Atomic City, expressed similar sentiments. "People are a little too anxious to look for a magic bullet, like if I get 500,000 Twitter followers it will be OK," Kiernan said.
Most panelists agreed authors shouldn't try to force social media, saying doing so would make it appear, well, forced. "Just be sure its something you like to do," Kiernan said. "Some people like Facebook better than Twitter. Some people like to go on blog tours and write for them because they like that network. Experiment and go with what you enjoy most."
Keeping that in mind, Friedman said that platform builds over time as authors put out more work. "An author's long-term career is rarely tied to a single publisher or a single book. Your platform or career should outlast that one single book or deal."
One audience member posed the question of whether an author should focus on trying to appeal to the broader market or go deep into a narrow pool of readers. "Coming from a publisher who was a niche publisher, I have seen the power of going deep," Friedman said. "Assuming you are going to be going back to that audience, the rewards grow with each passing book. It is easier to start narrow and then broaden your reach. The are things you can do to cast a wider net, but I would go after the true fans first."
Another thing authors should do — and sadly, it has to be said — is be nice. "No whining, no jealousy or anything that is just bad personhood," said Sharyn Rosenblum, a vice president at William Morrow who spent many years as an in-house publicist. "Have a positive attitude and don't be cranky."
Maud Casey, a literary fiction author, agreed. "The lesson here is we're people. You're forging relationships with human beings," she said. "Bad personhood is not a good idea in general, and especially in within the publishing community. Be kind, be curious."
Part II will look at some specific marketing strategies recommended. [Meanwhile, if you want to start building your own author platform, check out our article Setting up Your Empire.]