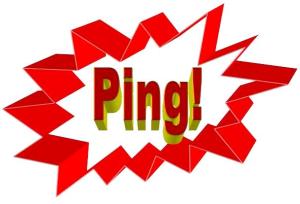 A Pingback is not merely the sound of elastic being twanged on Cathy Speight's catapult as she aims her ammunition at Chris James. It is, in fact, a type of comment that's created whenever you link to another WordPress.com post (provided the blog the post appears on has pingbacks enabled). The best way to think about pingbacks is as remote comments:
Person 1 posts something on his blog.
Person 2 posts on her own blog, linking to Person A's post. This automatically sends a pingback to Person A when both have pingback enabled blogs.
Person 1's blog receives the pingback, then automatically goes to Person 2's post to confirm that the pingback did, in fact, originate there.
How can I activate Pingbacks?
You can find the settings for pingbacks on your WordPress site.  From your Dashboard, go to Settings > Discussion. At the top you'll see the Default articles settings section, as shown below:

To create a pingback, just link to another blog post. For example, you might write a post for your blog and put: "Just read a weird tutorial about Pingbacks and I am still none the wiser. What do you think?" You then link to this post by adding this URL to your post. Ta-da! You have just created a pingback.
Indies Unlimited and anyone reading the comments on this post will see you have created a pingback and hopefully will dash over to see what you've said about it. This works well if you don't want to leave a lengthy comment on the actual site. In fact, I would recommend you use a pingback rather than write reams in the comment section.
You can do this for any site. You might really like a post and want to refer your followers to it. Do it with a brief message and a pingback.
If that post has pingbacks enabled, the blog owner will see a pingback appear in their comments section that they can approve. Then they and their followers might click through to visit your post and read what you had to say.
Differences between Trackbacks and Pingbacks
On a superficial level, trackbacks and pingbacks serve much the same purpose and that is to notify a blog owner that someone has linked back to their site. The difference is, trackbacks appear as comments with content. Pingbacks appear as a link with no content.
Pingback Example
When you share a link from say, Indies Unlimited to your blog, the other blog owner (i.e. Indies Unlimited) is notified in their site's Incoming Links module, but only if they have pingbacks enabled.
The pingback is displayed in your master Comments list.

(Not the Comments section below your post. It's the master list of all comments made on your site that you access from the Comments link in the left sidebar of your admin pages.) To read them, go to the dropdown arrow and click on pings as per the red arrow in the picture above. Then, click on the Apply tab circled in red. You will see all your pings.

There's nothing for the other blog owner to approve, and it doesn't really display on their site only as a link to the post or page that sent the pingback. So, it might appear like this in your comments section:

Because of pingbacks, remember that when you link to another WordPress.com blog, that blogger will likely be notified. So be sure that you actually want them to see what you've written. If you don't, you might not want to put a full hyperlink back to their blog.
Why are pingbacks good? It's good for you to know who is linking to your site. So, set your posts and pages to allow for pingbacks.
Why are they bad? Well, there aren't many disadvantages to allowing for pingbacks unless you don't moderate them. You don't want to give a spammer a link on your site any more than you would give them a comment.
If you do not want to receive pingbacks or trackbacks when other bloggers link to your posts, you can disable the option in Settings->Discussion. And if you don't want anyone to be notified when you mention them, there's also an option there to turn off your own outgoing pingbacks and trackbacks.
When used well, pingbacks are another great way to get connected with other bloggers who share your interests and to keep the blog love flowing throughout the great wide blogosphere.