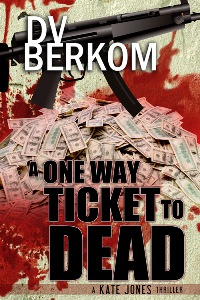 A One Way Ticket to Dead (A Kate Jones Thriller)
by D.V. Berkom
Genre: Thriller, action/adventure
Word count: 69,650
After years of running from her ex—a vicious Mexican drug lord—and his subsequent death, Kate Jones is ready to bury the past and try to piece together a new normal. But first there's a loose end to tie and it involves digging up old ghosts that are best left alone.
Unaware her actions have attracted the notice of a powerful enemy Kate is plunged into a deadly fight for survival, as both her life and the lives of the children of a man she once loved hang in the balance. And, with the possibility of an informant inside the DEA, she doesn't know who she can trust.
From the emerald green shores of Seattle to the lush Yucatán jungle and unforgiving Sonoran desert, Kate Jones must once again face her past…and hope she survives.
This book is available from Amazon, iBooks, and Smashwords.
D.V., how did you come up with the title for your book? Does it have any special meaning?
It's a line from the book. As soon as I wrote it, I knew that was the title.
Who was your favorite character and why?
All the returning characters are favorites, but I had a lot of fun writing Pit Bull's character. Pit Bull is a mercenary Kate has to work with who lives in Mexico and has a bit of a weakness for weed…
Does your book have any underlying theme, message, or moral?
Don't steal money from a drug cartel.
What would/could a reader or reviewer say about this book that shows they "get" you as an author?
She writes great action and suspense with believable characters. I couldn't put the book down.
Give us an excerpted quote from your favorite review of this book:
"…I was hooked from the first page and had to be ejected from my aeroplane seat by a member of staff because I was so engrossed in the book, I had not realised we had landed."
Where can people learn more about your writing?
http://www.dvberkom.com