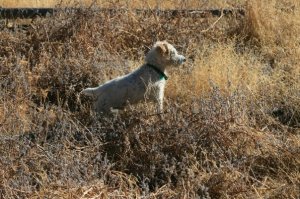 The little white Terrier acts as the assistant to a wildlife photographer. His keen senses can detect, long before hers, when something interesting is about to happen.
It's a plan that made perfect sense except for one thing. He's just too cute. Over the years, she has missed shots of the Loch Ness Monster, Sasquatch, Mothman, and the Easter Bunny. Here he is trying to alert his human to something unusual looming just over the treeline. Once again, she is taking a picture of him instead.
Knowing disaster may strike if he doesn't act quickly…
In 250 words or less, tell us a story incorporating the elements in the picture. The 250 word limit will be strictly enforced.
Please keep language and subject matter to a PG-13 level.
Use the comment section below to submit your entry. Entries will be accepted until Tuesday at 5:00 PM Pacific Time.
On Wednesday afternoon, we will open voting to the public with an online poll for the best writing entry accompanying the photo. Voting will be open until 5:00 PM Thursday.
On Friday afternoon, the winner will be recognized as we post the winning entry along with the picture as a feature. Then, at year end, the winners will be featured in an anthology like this one. Best of luck to you all in your writing!
Entries only in the comment section. Other comments will be deleted. See HERE for additional information and terms.