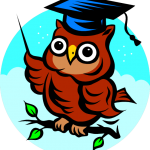 Here are a few tips, tricks, hints, and "did you knows" that we've been accumulating over the past few months. I hope they help!
Shipping to a library? Whether it's a school library or an actual standalone library, make sure the word library is on the outside of your package in the ship-to address. Depending upon what Post Office you're at, that will make your package eligible for "library rate."  (Some postal workers actually haven't heard of this, and there is a debate over where it has to be from AND to a library, or just one or the other.) Library rate is by far the LEAST expensive method of transit available. If that doesn't work (it's worth a try, right?), you can use media mail as long as there is no personal correspondence in the package.
Signing books and peripheral materials? Don't use the same signature you use for your legal and financial dealings! You're setting yourself up for identity theft if you do.
You can edit a facebook comment. Just go to the comment, hover over the top right-hand corner and you will see a little pencil. Hover over that and a little bubble will pop up – click on that.


When you use a search engine to look something up, ever notice how a lot of photos come up as results? Wouldn't you like to have your pictures come up in those results? It's easy. Whenever you upload a photo to a blog post or web page, don't leave it as IMG_0013 – name it with keywords before you upload it. You can either right click and "rename" the picture, or if you make any changes to it, when you save it, save it AS a keyword-laden name. (see picture below.)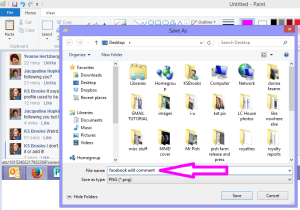 Pinterest – the secret boards are a fantastic and convenient way to prepare for a book launch. I normally don't have time for Pinterest, but this way, I can actually pin photos to a secret board about exotic locations, foods, or other items I'm researching – while I'm on those websites. Quick, easy, and visual. Don't know how to use Pinterest? Check out this tutorial, and go have some fun.
Get a great new review on Amazon? Get a screen capture of that puppy in case Amazon gets on one of its tears and takes it down. Don't know how to do a screen capture? We show you how here: https://indiesunlimited.com/2013/02/26/tutorial-screen-captures/
Did you know that you can make special pages on Goodreads for your characters? You can add information about the characters, and even a photo gallery!  If you write a series, you can then connect that character to each book in that series. Pretty cool, eh? Check this one out at https://www.goodreads.com/characters/105225
Sharing something to LinkedIn groups? Put a question in the subject line and you will get a lot more activity. (The subject line is highlighted in yellow in the screen capture below.)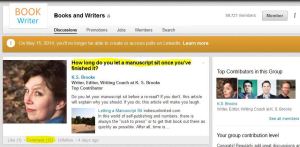 Want to see if your ads are getting you anywhere on Goodreads even if people aren't clicking on them? Just go to that campaign and scroll down, then click on Books added stats. (see yellow highlighting below.)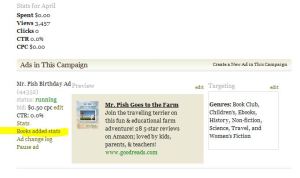 That will take you to a chart, and from there you can check by date to see who's done what with the book.
Did you know that if you price a book for free on Smashwords that anyone can download it – and they don't need a Smashwords account? That's pretty awesome and a great way to get your book(s) into the hands of readers or reviewers who don't have a SW account. Just set the price at zero, let them download the format of their choice, and put your price back to normal afterwards. (Price must be set at zero. This is not a coupon deal.)
An author from the future visited us (2015) recently and told us that in the Amazon cafeteria, the trays you put your plates on are actually old Nooks. Oh, and all restaurants are Taco Bell.
That's it for this installment – tune in next week for another gem on Tutorial Tuesday!