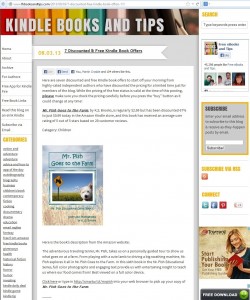 On August 3rd, 2013, I did my first ever promotion. I was nudged to do this by the wise and benevolent bestselling author Martin Crosbie. He really is a super swell dude. I decided to try to keep the momentum going for my latest book, Mr. Pish Goes to the Farm, which was released back in June. The planning for this promo started in June, in fact. After the book was out for two weeks, I raised the price of the book from the introductory offer of 99 cents to $2.99. This way, when the promo sale price dropped back to 99 cents, people would feel like they were getting a deal, indeed!
Despite hitting the top of three different "Amazon.com Hot New Releases" lists in June, there were ZERO sales in July. ZERO! We're talking an internationally-known traveling terrier spreading knowledge and joy! Oh, the humanity! In any case, I was glad I'd plotted with Martin back in June to set up my promo. Here's what I did.
#1 – I filled out the form at ENT here: http://ereadernewstoday.com/bargain-kindle-books/ I chose a date in August and kept my fingers crossed I would hear from them a couple of days before to confirm my promo on their site. Their promo doesn't cost anything up front – they take a 25% cut of the sales you make through their site. That's certainly affordable! (I never heard back from them, by the way, and they never ran my promo – BUT that could be my fault since I ran it on a Saturday and they run bargain books Monday-Friday. Next time I'll do it on a weekday.)
#2 – I paid $25 for a "Regular Book Posting" on Michael Gallagher's Kindle Books and Tips.  Dealing with Michael was great. He is a real class act and is very responsive. I feel very fortunate that he listed Mr. Pish at the top of his post for that day. I don't know if he felt bad for me because trying to sell a children's book is tough, or if he just couldn't resist the power of Mr. Pish's extreme cuteness. Or, maybe he received my request for that date first. But probably the cuteness thing.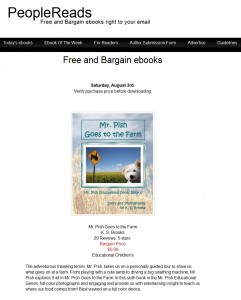 #3 – I scrambled to get one more review so I could hit the minimum 25 required to be eligible for Van Heerling's new site, PeopleReads. It's free, and Van is wonderful to work with. It was nice, too, that Mr. Pish was the only bargain book listed on their site on August 3rd.
I also had to pull KP duty for a month in the IU kitchens to get Mr. Pish in the sidebar on Indies Unlimited. Gruel may taste great, but it doesn't smell so good while it's cooking.
Now, how does all this translate? I'd like to start off by saying that Mr. Pish books are educational children's books. While parents and adults enjoy them as well, clearly it's not the type of thing a single person would be like "ooh, gotta grab that while it's on sale!" So I lose a huge portion of the audience targeted by all these efforts. I knew that going in. (I think a novel would be a completely different story. No pun intended.)
Sales? Well, not a whole bunch. 36 total. At 99 cents per book, my royalty intake ended up at a total of $12.60, which covers half of what I paid for the ad. Does that make this a failure, since I didn't make my money back? I don't think so. A big part of that answer depends on how you define success, as the Evil Mastermind recently wrote about here. I figure, for $12.40, I had a really fun weekend. I garnered 36 new readers I never would have reached without Michael Gallagher. (Not saying PeopleReads didn't generate any sales, but I noticed that downloads took off after the KBT post went live.) I can now boast that Mr. Pish Goes to the Farm was a bestseller in three different Amazon categories. (It's possible, in fact, that the book hit #1 while I was sleeping. I guess I'll never know!) Overall, the book was in the top 8500. Now THAT is cool! Oh, did I mention it's a bestseller in three different categories? Rubbing elbows with books by Harper Collins and beating out OLD YELLER? Did I already say that?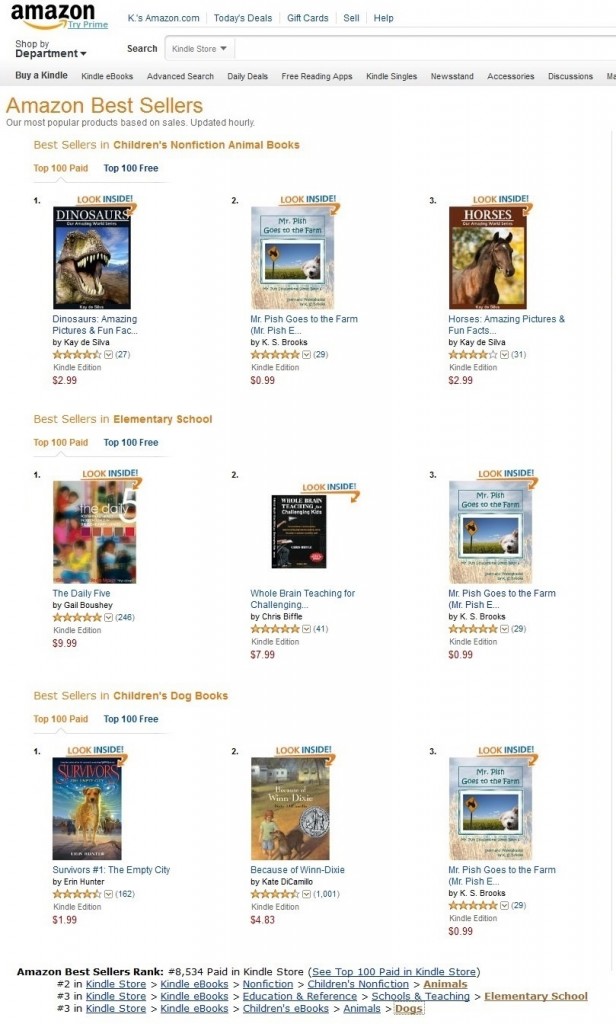 And, if it hadn't been for the promotion, I wouldn't have made what could be an incredibly important observation. The moment I raised my book's price back to $2.99, sales stopped dead. Dead, like no-longer-alive dead. One of the main ways authors derive profit from promotions is the "after sale" sales boost. But not this time. I could hear crickets. Okay, just one cricket. All right, it was a tree branch creaking in the wind. That made me take a closer look at all my books priced at $2.99. NONE of them have been selling. Is $2.99 the kiss of death price for a book, or just MY books? My 99 cent ebooks are selling. My $6.50 ebooks (through my publisher) are selling. I never would have noticed this if I hadn't run the promotion. Obviously, I need to develop a different pricing strategy.
Another nice thing that came of this is lots of people shared my promo. Over 100 people shared the post on Facebook. Now, I know some of those were for the other authors who also had promo books that day, but it was neat to watch that number climb. I also learned not to be so shy about asking people to share. Whenever someone would comment "kudos!" on one of the bestseller list posts, I'd reply with "Thank you! Please tell your friends. Every bit helps." While I'm pretty certain the commenters are long gone and won't share, it never hurts to ask.
Hopefully some of those 36 new readers will post reviews. Hopefully they will fall in love with Mr. Pish and purchase the other five books in the series. Hopefully they'll tell their friends. But if not, I had one heck of a wild ride, and all for less than it costs to go to the movies. I'd say that was more than worth it.