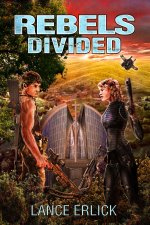 Rebels Divided
by Lance Erlick
Categories: science fiction, fantasy, action, adventure
Available on Amazon and Amazon UK
Geo Shaw is a young frontiersman from the Outlands, and a sworn enemy of the female-dominated Federal Union. Annabelle Scott is a Mechanized Warrior for the Union. When each is betrayed by their own government, they have to overcome mutual distrust to rely on each other in order to survive.