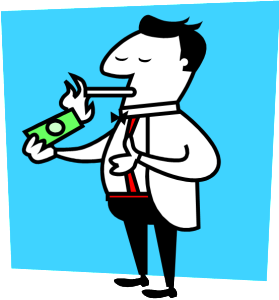 As you know, Laurie Boris and I met up at this year's Self-Publishing Book Expo in New York a few weeks ago. Meeting Laurie was pretty freaking awesome. But I'll be honest: the event left me with a bit of a sour taste.
It wasn't because of Mark Coker, who delivered a timely and useful keynote speech (much of which he later recapped on the Smashwords blog). What gave me heartburn was the exhibit floor, which featured a whole bunch of companies that would love to help indie authors succeed – for a price. (Laurie has already touched on this in her report on the event.)
Look, I'm not naïve. I realize that when you walk into a trade show, you're going to meet a whole lot of people who want to sell you stuff. And I realize that service providers set their rates, in part, by determining how much money they need to make in order to keep their lights on. But it worries me when the target audience isn't seasoned professionals, or even people with a couple of self-published books under their belts, but complete newbies who will walk away from an event like this thinking they need to spend several thousand dollars just to get their book noticed on somebody's virtual shelf.
It's been reported that half of self-published authors make less than $500 a year from their writing. If you only ever plan to publish one book, just so you can tick a box on your bucket list, it might make sense to shell out more than you're ever going to earn so you can do it up right. After all, people pay that much and more to travel the world, or take up a sport, or any of the other things we put on our bucket lists.
But I know that a whole bunch of us are in this for a different reason: we would like to make a living from our writing. That means we cannot continually spend more than we make. And while some of the services aimed at authors would be nice to pay for, we need to think about what we're after (satisfied readers – ideally a lot of them) and evaluate which services will help us reach our goals.
So it makes no sense, for example, to pay hundreds of dollars for a review from a firm that readers have never heard of – no matter how well-regarded they might be in New York publishing circles. And it makes no sense, at least to start, to pay for services you can get either cheaply or for free. Actually, strike that – it doesn't make sense to pay for them ever.
Here is a list of the things you ought to spend money on: editing, cover art, and (maybe) marketing. That's it. And you don't have to pay through the nose to get any of it. In fact, you can learn to do a lot of it yourself. We have plenty of articles here at IU on all of these topics, and reading them won't cost you a thing.
I don't object to anybody making a living. Service providers are certainly welcome to charge whatever the freight will bear. But by the same token, indies should be encouraged to weigh the return on their investment in any of these services, and decide whether they wouldn't be better served in the long run by looking for a cheaper alternative.