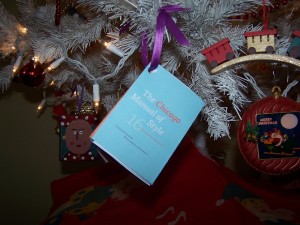 If you're a writer, you might have heard the names of different style guides bandied about. Or maybe you've wondered if "Chicago Style" is what the well-dressed gentlemen of the Windy City are wearing this season. As an indie author, you might mutter about why these rules are being foisted upon us, because if you wanted rules, you would polish up some query letters and try to snag an agent and a big publisher. Turns out a decent style guide can be a big help for all writers who want to share their work with readers.
Why use one – In a word, consistency. In three words, consistency, communication, and clarity. Humans like consistency, and clarity and good communication can ensure that the message you intend to deliver to your readers has the best chance of being received. It can be confusing to readers if you spell a word seven different ways or capitalize a term halfway through the book and then switch back and forth. It also gives the impression that you don't care enough about your professional image to take the time and effort to iron out the details. Even if you create your own style, keeping terms consistent can reinforce that you've made some intentional choices and not errors.
Here's an overview of the major style guides:
Chicago Manual of Style (CMoS) – The Chicago Manual of Style is the Big Kahuna used in US publishing and increasingly in Canada. Literally, it's big. It's available in a hardcover version that costs about sixty bucks and doubles as an effective doorstop and hand weight; you can also fork over about half that annually for an online subscription. I like print because I can scribble all over it and dog-ear pages I come back to over and over. The indexing can require a bit of a learning curve, especially if you are not an editor, but use it often enough and you'll get the hang of it. Some solutions can be a touch vague; learning how to extrapolate from the many examples will help you in situations that aren't so cut-and-dried.
Oxford Style Manual – The main style guide for UK English, this combines the former Hart's Rules and the Oxford Dictionary. I use the online version. Very handy if you're a US editor working on a UK-English manuscript. Or if you're a UK writer writing…well, anything.
Associated Press (AP) Style Book – Mainly used by journalists, this guide is driven by several factors, including the increasingly arcane need to save print column inches and clarify problems caused by old-fashioned typesetting. (Can you tell I'm not a fan? Can you tell that Syracuse University's equivalent of J. Jonah Jameson metaphorically forced this down my throat during journalism school?) There are small differences between AP and Chicago, and with each edition, AP tends to adopt changes already being recommended by Chicago. For example, Chicago tends to eschew unnecessary capitalization (called, creatively, "down" style) and periods in acronyms. Yet (as of this writing) AP lists "U.S." as their preferred use and recommends no italicization or quotes used around titles of books and other major works. If you are a journalist, however, the AP Stylebook contains a great guide to media law, including defamation, libel, and proper use of social media for reporters.
American Psychiatric Association (APA) Style – This guide is most often called into play in academic writing, particularly in the social sciences. It focuses quite a bit on footnotes, attributions, bibliographies, and all the goodies you might see in a dissertation, academic paper, or similar formal writing. If you are a student, a teacher, or an editor or proofreader of academic writing, this could make a great professional companion. And it's available online from several sources, but this is my favorite.
Publisher's Style Books – If you work with a publisher, the company might have its own in-house style guide. (Usually called "house style.") This often starts with one of the bigger guides as a base and makes consistency calls about smaller things like font usage, trademarks, capitalization, paragraph indents, spacing, and folio formatting, just to name a few. For instance, when I signed on with a small press, I received a document titled, "How We Do Things Here," outlining the publishers' preferences. It was a handy reference, eliminated a lot of questions, and gave their publications a level of consistency. And that's the name of the game, when it comes down to it.
Do you have a style guide preference? Have you ever injured yourself with a print copy of the Chicago Manual of Style?