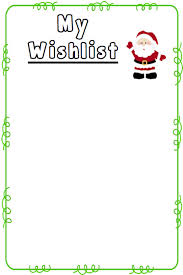 As a kid, I put my best writing skills to work this time of the year. No, I didn't create the perfect Christmas card message — I perfected the ultimate Christmas List! As the holidays neared, I would craft the best descriptions of the toys that I wanted, cut out pictures and list the optimum places to find Jimmy's Wish List entries.
Nowadays, I don't create the master wish list anymore, but I still make lists. This time of the year is a great time to think about the future. Putting into words the things you want to improve on, change, or learn is a great step toward making them a reality.
Here are some great things to include in your wish list for the upcoming year. I'm sure many of you have some of these in place, but hopefully you'll find a few nuggets that were lacking in the past year.
During my childhood, I would make it easy on my parents (and to make sure they got the right thing) by mapping out where each item could be purchased. With that in mind, I have done the same thing with this list.
I've linked each item in the list to resources on Indies Unlimited. From tutorials to experiences in the trenches, you can find the best information from the rock stars of the indie writing world.
Now is the perfect time to set aside an hour or so to carve out your success for 2015. Don't try to change everything. Pick two or three things from the list above to help you grow in the New Year.