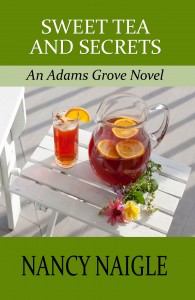 Today, we get a sneak peek of author Nancy Naigle's suspense novel, Sweet Tea and Secrets:
Adams Grove is mourning the loss of Pearl Clemmons, known for her award-winning Chocolate Pecan Pie and the best unsolicited advice in the county. When Jill returns to settle her grandmother's estate, she's greeted by a Clydesdale-sized guardian dog who doesn't seem to be earning his stripes (although he drools on them pretty well), and Garrett Malloy, the ex-fiancé she left behind a year ago. Jill insists on staying at Pearl's amidst a string of break-ins that have sleepy Adams Grove wide awake and locking its doors. Jill's past with Garrett becomes the least of her worries when she learns that their lives are in danger. She is the only person standing between a desperate conman and a secret from Pearl's past. Will Pearl's past kill any chance of Jill and Garrett's future together?
Sweet Tea and Secrets is available on Amazon.com and Barnes&Noble.com.
SWEET TEA AND SECRETS
Jill Clemmons started each morning with Grandma Pearl's favorite advice in mind: Live your life in such a way that when your feet hit the floor in the morning, Satan shudders and says, 'Oh shit, she's awake!'
Sometimes that was harder than it sounded. Like today.
Even though Jill was thrilled to be half way home to Adams Grove for Pearl's surprise party, the trip hadn't come without its own set of hurdles. Bradley was unhappy about her dropping everything to make the trip up from Savannah to Virginia. He'd stomped around and mumbled about it being just two weeks before the big fundraiser and putting the timeline at risk. But Jill was in charge of that timeline and, aside from Bradley's foul mood, the Kase Foundation wouldn't suffer one bit by her being gone for one day.
Technically, Pearl's birthday wasn't until June 27th, after the fundraiser, but keeping a secret from Pearl was next to impossible. If Pearl's friends succeeded in surprising her, it would be the first time anyone had. There was no way Jill was going to miss this, even if it did mean making the trip up and back in one day. Pearl's party might not be one of Bradley's priorities, but it darn sure was one of hers.
The tension from the week evaporated as Jill got closer to Adams Grove, the place she considered home.
She could hardly believe a year had passed since she'd packed all her stuff in Piggly Wiggly bags and hit the road in her little red pickup. Jill never thought she'd live anywhere but Adams Grove. But on the rebound from Garrett Malloy, accepting the fundraiser position with the Kase Foundation had been a no-brainer. In fact, getting away from Garrett by moving to Savannah had been one of the biggest perks of the job. The only downside was being away from Pearl.
As Jill took the exit off I-95, she turned the air conditioner up a notch then fumbled for the button to lower the window of her new BMW. She'd never been one to give two hoots about a fancy car, but fancy cars, big houses and appearances were the be-all, end-all to Bradley Kase. Since he'd become more than just a boss over the past year, she'd let him talk her into trading in Ol' Red for something he considered more appropriate. She missed that truck and its trusty crank-down windows.
Jill turned on Horseshoe Run Road and a bittersweet smile eased across her lips. She inhaled the scent of honeysuckle and mimosa that filled this stretch of road every summer. When the wind blew downriver, even Farmer Young's smelly pigs couldn't drown out the fragrance.
[subscribe2]