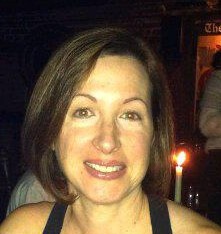 I am pleased to announce that L.A. (Lois) Lewandowski will be joining the staff of Indies Unlimited as a contributing author.
Lois graduated from Rutgers, The State University with a degree in Political Science and French Literature. She relocated to Tampa, Florida in 1994, and says she loves it there. She plays tennis, does Pilates and yoga, and enjoys the ability to be outside year round. Tampa bay offers a great lifestyle to the lucky people who live there. (WTF? I better be getting a kickback from the Florida Department of Tourism for this.)
Lois also has a great blog on culture and cuisine—two things we could do with a bit more of around this joint. Be sure to check out her blog to learn more. Let's face it, though, what with blogging here and scrubbing the Indies Unlimited plasma conduits, she's not going to have a lot of extra time for blogging elsewhere. Lois' regular feature articles will appear here each Monday afternoon. Please join us in welcoming her to the Indies Unlimited team!
[subscribe2]