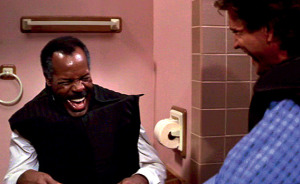 Life is busy at the moment, so please forgive the short post. One of the earliest pieces of writing advice I ever remember reading arrived courtesy of Stephen King. It was three simple (if slightly crude) words: "ass in chair." Okay, fine. Thanks for that, Stephen. It can't be argued with, though. But the next question occurs once you have molded said body part firmly onto the furniture in question: how do you keep it there? How do you stay motivated and focused enough to type out the allotted number of words at whatever rate you've set yourself? Well, this week I thought I'd be helpful and share five simple techniques to keep you in your seat, facing your screen, typing mindlessly into a document. An activity we mystifyingly insist on calling "writing".
1. Remember the scene in Lethal Weapon 2 where Danny Glover is sitting on the toilet and a bomb is wired to explode if he gets up off the seat? Well, there's a real clue to our dilemma right there. I don't mean boobytrap your computer chair with an actual bomb, although that would work too, I suppose. Albeit a tad risky. But no, we don't have to recreate it literally; I mean, we can let ourselves imagine a bomb going off if we stand up before our word quota is met, right? We are writers, after all. With imaginations, presumably. Oh, never mind.
2. So, you're quietly seething because all your friends took off for a day of sun and surf and you're sitting alone in this dingy basement again. How do you resist the urge to join them? Simple. With an unhealthy dose of schadenfreude, that's how. You tell yourself those selfsame frolicking, carefree friends will all lose ten years off their lives thanks to the malignant melanomas that were hatched in their damaged skin cells on this very day. You made the right call, and not only did you write your allotted number of words, but you will be healthier than everyone you know (as long as you ignore the impact on your health of lengthy periods of sedentary existence punctuated only by the rustle of a chip bag or the uncorking of another bottle of Cabernet).
3. You steadily release these literary masterpieces into the black hole of the mighty 'Zon. You then pointedly ignore the unanimous silence of the world's cruel indifference. In the movie that runs in your head, the one in which you are the star of course, you watch excitedly as your genius is acknowledged by the literati; you are now lauded among the greats. Okay, if you are able to ignore reality this remarkably, it isn't any great leap to further pretend there is a man with a hefty cheque waiting for you if you only finish this chapter, edit that section, proofread this paragraph. Add as many zeros to said cheque as you like. Hell, spell it "check", even, I don't care. Make the man a famous celebrity. Have him place a Care Bear in a headlock for no apparent reason. Make him laugh at sly librarians. It's your scenario. Self-delusion (along with near-psychosis) is an essential part of being a writer.
4. Tell yourself if you don't meet today's word quota, not only will you make the baby Jesus cry, but you will plunge a battalion of the adorablest kittens into a chronic depression that will eliminate the will to live for 38% of them. You want that on your conscience? (Wait, my spellcheck didn't flag "adorablest"? Has the world gone mad?)
5. And finally, if the other techniques fail, buy an industrial staple gun, around twenty tubes of Crazy Glue, a roll of the ever-handy duct tape, and use them in ways that will become obvious on even the most cursory of reflections to affix your rebel carcass to your chair.
*     *     *     *     *
David Antrobus is a contributing writer for Indies Unlimited and author of the nonfiction book Dissolute Kinship: A 9/11 Road Trip. For more information, please visit the IU Bio page, and his website: The Migrant Type. He also occasionally adds his stuff to the website BlergPop.